Space Foundation News
---
Space Foundation Releases The Space Report 2007
Written by: Space Foundation Editorial Team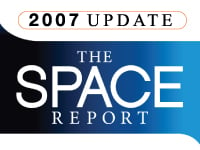 COLORADO SPRINGS, Colo. (Oct. 10, 2007) — The Space Foundation released The Space Report 2007, revealing that in 2006 the global space industry grew to nearly $220 billion in total revenues. The Space Report 2007 contains global space industry budgets and revenue data for calendar year 2006 and, along with the updated Space Foundation Index, demonstrates dramatic growth in the space economy that is outpacing most other markets and indices. Total space industry revenues of $220 billion in 2006 represent a single-year increase of 18 percent from 2005.
The signature product of the Space Foundation's Research & Analysis division, The Space Report 2007 is an update of The Space Report 2006. This groundbreaking, peer-reviewed document pioneered a new model for understanding the space industry by expanding the traditional three-sector model – civil, commercial, and national security space – into a more precise and comprehensive nine-sector model based on the end use of space products, systems and services. 
The Space Report 2007 contains data showing that nearly every sector of space experienced growth in 2006. Satellite based products and services and U.S. government space investments comprise the two largest segments of the space industry at 50 percent and 28 percent of total revenues, respectively. 
In addition, The Space Report 2007 provides updated and revised data for 2005. Global space revenues of $179.65 billion in 2005 were reported in The Space Report 2006. Based on the Space Foundation's subsequent acquisition of higher fidelity data, the 2005 global space revenue figure has been updated to $186.31 billion.
A key component of The Space Report 2007 is the Space Foundation Index. Now in its third year, the Space Foundation Index is a weighted index that tracks the market performance of 31 public companies that derive a significant portion of their revenue from space-related assets and activities. Since its inception in June 2005, the Space Foundation Index has increased by more than 45 percent, significantly outpacing both the NASDAQ and S&P 500 indices, which grew 31 percent and 28 percent, respectively.
The Space Report 2007 is available for free download, and The Space Report 2006 remains available for purchase at www.TheSpaceReport.org.
Following two successful years of producing the annual "report card on the space industry," the Space Foundation will release The Space Report 2008, another robust, content-rich report on the state of the space industry, in April 2008. This document, containing data for calendar year 2007,will be streamlined for ease of use and will be structured around condensed, updated and more user-friendly reports and analyses. The printed report will be augmented with charts, data, and analyses that will be published as online adjuncts to the printed report. The Space Report 2008 will be released in conjunction with the 24th National Space Symposium, April 7-10 at The Broadmoor Hotel in Colorado Springs, Colo.
---
Posted in Space Foundation News