Space Foundation News
---
Rockets, Aim, Fire! Space Discovery Institute Off to a Blazing Start
Written by: developer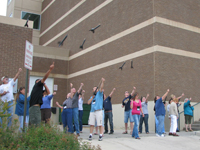 COLORADO SPRINGS, Colo. (Jun. 25, 2008) — Last week teachers from across the country gathered for the first week of the Space Discovery Institute courses, "Rocketry and the Biology of Living in Space: Living Aboard the International Space Station." The course focused on topics including space law, history of space stations, and the complexities involved in building, maintaining, and living on the International Space Station.
Activities also included the construction of rockets to assist educators in teaching propulsion principles their classrooms.
The Space Discovery Institute is comprised of five week-long, intensive, graduate-level, in-resident courses in Colorado Springs, Colo. These courses provide educators with skills and techniques to capture the imagination and interest of their students using space to inspire, enable, and propel them to study the science, technology, engineering and math (STEM) disciplines.
---
Posted in Space Foundation News