Report from Headquarters
---
Space Foundation Holds Workshop for Omaha Teachers
Written by: developer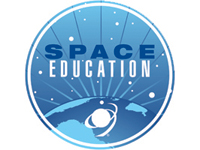 As part of a preliminary partnership between Omaha (Neb.) Public Schools and the Space Foundation to explore possibilities for using space and space technology to encourage students to become interested in science, the Space Foundation conducted a one-day workshop at the Omaha Zoo for 15 select elementary, middle, and high school teachers on Dec. 10, 2008.
The event focused on integrating space concepts into the teachers' curricula to pique students' interest in science. The hands-on activities applied national and state science standards and presented a prime sampling of the activities taught during the Space Foundation's Space Discovery Institute courses. The participants incorporated astrobiology concepts through the "Create an Alien" activity from "Astronomy Principles for the Classroom;" learned how NASA filters water on the International Space Station from the new "Lunar/Mars Exploration and Base Construction" course; were given an overview of microgravity concepts and the effects of microgravity on the human body from "Biological and Physical Research;" created endeffectors for a robot from "Space Technologies in the Classroom;" discovered mining concepts for the moon from "Earth Systems Science;" and learned about rocket principles by building straw rockets from "Rocketry."
The Omaha Public Schools and the Space Foundation are looking to expand their partnership to bring teachers from Omaha to the Space Discovery Institute in Colorado Springs, and, ultimately, to bring the Space Foundation to Omaha for future Space Discovery Institute courses.
This article is part of Space Watch: January 2009 (Volume: 8, Issue: 1).
---
Posted in Report from Headquarters