Spotlight
---
Articles Outline Chinese Space Program
Written by: developer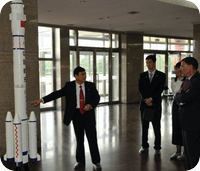 AVIATION WEEK has published two articles on the Chinese space program and details of the historic Space Foundation delegation visit to China's manned spaceflight facilities and its meetings with leaders of China's human spaceflight program. An article by delegation member Frank Morring, Jr., published Oct. 9 gives a rare look at China's Jiuquan Satellite Launch Center, located near Jiayuguan in the Gobi Desert, and provides details on China's plans for its taikonaut corps, its future manned and unmanned launches, and its planned space station. Read the article here.
In an Oct. 16 article, reporters Frank Morring, Jr., and Bradley Perrett outline China's planned lunar program. Covering Chinese involvement in last month's International Astronautical Congress (IAC), the story also draws on Morring's experience as a member of last month's Space Foundation delegation to China. To read the article, click here.
Led by Space Foundation Chief Executive Officer Elliot Pulham, the delegation comprised former shuttle astronaut and AVIATION WEEK President Tom Henricks; former deputy NASA administrator and former shuttle astronaut Fred Gregory; Space Foundation Senior Vice President - Strategic Communications Steve Eisenhart; Space Foundation Vice President - Washington, D.C., Operations, Government Affairs Brendan Curry; Space Foundation Special Adviser - International Affairs William V. Parker; and Morring, who is an editor for AVIATION WEEK & SPACE TECHNOLOGY.
In Beijing, the group visited several sites at the China Academy of Space Technology (CAST) including the Beijing Aerospace Control Center and the production facilities where the Shenzhou 8 spacecraft, TANG-1 spacecraft, and various satellites are in assembly, and the China Astronaut Research and Training Center. At the Jiuquan Satellite Launch Center, the delegation was briefed at the launch control center and then toured the vehicle assembly building and launch pad.
To read Elliot Pulham's overview of the visit that appeared in Space Watch, click here.
This article is part of Space Watch: November 2009 (Volume: 8, Issue: 11).
---
Posted in Spotlight