Space Foundation News
---
Opening Reception; Dinner Launch Strategic Space Symposium
Written by: developer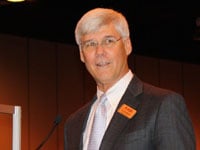 COLORADO SPRINGS, Colo. (Nov. 2, 2009) — The Strategic Space Symposium got off to a grand start on Nov. 2 with an Oktoberfest-themed Opening Reception in the AMERICOM Government Services (AGS) Exhibit Center.
Welcomed by Space Foundation CEO Elliot Pulham, Omaha Mayor Jim Suttle, United States Strategic Command Commander Gen. Kevin Chilton, USAF, and AGS President and CEO Brig. Gen. Tip Osterthaler, USAF (Retired) (pictured), guests mingled among the almost 40 exhibits, reconnecting with acquaintances, making new business connections, and discussing the upcoming Symposium. Then, at the Congressional and International Partners Dinner, co-sponsored by CISCO Systems, Inc., and Intelsat General Corporation, the Space Foundation recognized attending Congressional staff members and a diverse group of international military and space leaders:
Presented through a Space Foundation/United States Strategic Command partnership, the Strategic Space Symposium runs through Nov. 4 at the Qwest Center Omaha in Omaha, Neb. More than 1,800 attendees, speakers, exhibitors, and sponsors are on hand for the program that features high-level government and military leaders from the U.S. Strategic Command, the National Reconnaissance Office, the National Geospatial-Intelligence Agency, the Department of Defense, the U.S. Air Force, the U.S. Army, DARPA, Joint Functional Component Commands, the European, Northern, Southern and Special Operations Commands, the Space Foundation, The Aerospace Corporation, AMERICOM Government Services, GeoEye, Lockheed Martin, Northrop Grumman, Orbital Sciences, and Raytheon.
Much of the event is made possible through the support of a number of major sponsors and co-sponsors:
 For more details on the Strategic Space Symposium, including agenda and speakers, click here.
No federal endorsement of the Space Foundation or any of its members or affiliates is intended or implied. Sponsorship agreements are with the Space Foundation for programs and materials supplied by the Space Foundation.
# # #
---
Posted in Space Foundation News