Report from Washington, D.C.
---
New Space Technologies Improve Life on Earth
Written by: developer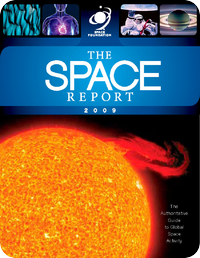 The following is an edited excerpt from the Space Foundation's The Space Report: The Authoritative Guide to Global Space Activity.
Often, space-based capabilities are combined to create new capabilities, many of which are changing our lives here on solid ground. For example, "geoinformatics" converges position, navigation, and timing (PNT) systems with remote sensing and position information of known objects to enable dynamic location-based content. Another capability is "converged media," which seamlessly integrates communication services within multiple networks, including satellite communications, with a variety of data to deliver content to users in new ways. Unmanned aircraft systems (UAS) and "smartphones" are among two emerging technologies that rely on both geoinformatics and converged media.
A UAS (previously referred to as an unmanned aerial vehicle or UAV) is an integrated system that includes aircraft, a control system, datalinks, and other support equipment, such as launchers, maintenance vehicles, video cameras and terminals and so forth. Because they are unmanned, they can perform military, police, and patrol missions that would be dangerous for human personnel.
Although UAS are not spacecraft, they use space assets to function: satellite communications to send commands to the aircraft and GPS signals for position, navigation, and timing. A large number are currently under development to supplement the many already deployed by military forces around the globe.
Satellite communications enable operators to fly unmanned vehicles from far distant command centers. Military drone flights in Afghanistan, for example, are controlled from bases in Nevada.
Remote sensing imagery can be used to determine how to deploy unmanned systems and to navigate them. The data gathered by sensors on the vehicle also returns via satellite to the operators for analysis. This fusion of multiple satellite products and services transforms a technology such as unmanned vehicles into a system that can redefine how national security is protected.
New smartphones rely on satellite products and services. To illustrate the integration of the burgeoning variety of space-related services, imagine a smartphone user looking for a restaurant: satellites provide the link to the communications network that allows access to a database of local eateries; positioning data determines where the nearest is located; the phone displays a route to the restaurant on a map generated from remote sensing data; the map can be configured to display traffic and weather conditions, relayed via satellite, for identifying the best route; once at the restaurant, the phone can signal the presence of a friend in the neighborhood if the friend's phone is transmitting its GPS data through the same communications network; once they meet at the restaurant, the friends can share photos that are "geotagged" with GPS data and placed on a remotely-sensed map of the area where they were taken.
By putting the power of the Internet and space products and services in consumers' hands at all times, smartphones constantly spur development of new applications and markets for positioning, remote sensing, and satellite communications services. These new technologies, enabled by a fusion of space services, make up only part of a greater trend in which space products and services are becoming an increasingly important element of the global infrastructure.
This – and much more – information about space and how space affects life on Earth can be found in The Space Report: The Authoritative Guide to Global Space Activity. To order a copy in book, PDF, or CD format, go to www.TheSpaceReport.org.
 
This article is part of Space Watch: January 2010 (Volume: 9, Issue: 1).
---
Posted in Report from Washington, D.C.