Space Foundation Press Releases
---
26th National Space Symposium Looks at What's Up There
Written by: developer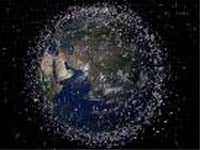 COLORADO SPRINGS, Colo. (Mar. 18, 2010) — Perhaps the most worrisome aspect of the increasing utilization – and globalization – of space is a simple question: "what's up there?" The Critical Issues – Space Situational Awareness & Space Debris panel at the 26th National Space Symposium will examine two different, but related, issues: the challenge of keeping abreast of what is taking place in near-Earth space, and the proliferation of space debris. 
The 26th National Space Symposium, the premier gathering of the global space community, will be held April 12-15 at The Broadmoor Hotel in Colorado Springs, Colo. Presented in association with the AMOS Conference, a Project of the Maui Economic Development Board, Inc. (MEDB), the panel will feature a special introduction by MEDB president and chief executive officer Jeanne Skog. Critical Issues – Space Situational Awareness & Space Debris will be moderated by space author William B. Scott, and will feature some of the top authorities on space situational awareness (SSA) and space debris:
Lt. Gen. Brian A. Arnold, USAF (Retired), vice president for space strategy, Raytheon Space and Airborne Systems
Roger L. Hall, ST, deputy director, Tactical Technology Office, Defense Advanced Research Projects Agency (DARPA)
Houston T. Hawkins, senior fellow, Los Alamos National Laboratory, and chief scientist, Principal Associate Directorate for Global Security
Maj. Gen. Susan J. Helms, USAF, director of Plans and Policy, U.S. Strategic Command
Nicholas L. Johnson, chief scientist for orbital debris, NASA
Joseph Sheehan, president, Analytical Graphics, Inc. (AGI)
"These two topics, while different, are interrelated because the technologies used to detect and track objects in orbit are the same," said Scott. "The panel will examine systems and technologies associated with determining what's up there and what the potential threats are. We'll also talk about issues, responsibility, accountability, and solutions for both SSA and debris."
About the Speakers
William Scott is a former Rocky Mountain Bureau Chief for Aviation Week & Space Technology magazine. During his 22 years with the publication, he also served as senior national editor, avionics editor, and senior engineering editor. He is co-author of two books: Counterspace: The Next Hours of World War III and Space Wars: The First Six Hours of World War III, both written with Michael J. Coumatos and William J. Birnes, and the author of Inside the Stealth Bomber: The B-2 Story. In 12 years of military and civilian flight testing, plus evaluating aircraft for Aviation Week, he has logged approximately 2,000 flight hours on 80 aircraft types.
Before joining Raytheon Space and Airborne Systems as vice president for space strategy, Lt. Gen. Brian A. Arnold, USAF (Retired) served as commander of the Air Force Space Command Space and Missile Systems Center at Los Angeles Air Force Base, Calif. He spent the majority of his military career serving as a pilot in FB-111 and B-52 aircraft; as a squadron commander, wing commander, and subunified commander; and as the director of space and nuclear deterrence for the assistant secretary of the Air Force for acquisition. Arnold earned a bachelor's degree in education from California State University, Hayward, and a master's degree in administrative education from Pepperdine University, Los Angeles.
As program manager for DARPA's Tactical Technology Office, Roger Hall is responsible for helping DARPA develop and execute joint programs that facilitate service delivery of critical and transformational warfighting capability. Before taking this position, Hall served in the United States Air Force for 25 years, and was an associate with Booz Allen Hamilton. Hall earned a bachelor's degree in physics from California State University; a master's degree in aerospace engineering from the University of Texas; and A.B.D. status from the Auburn University Ph.D. program in aerospace engineering.
An internationally recognized expert on modern terrorism involving the potential use of weapons of mass destruction, Houston T. Hawkins is a senior fellow at Los Alamos National Laboratory, where he serves as chief scientist for the Principal Associate Directorate for Global Security. He concurrently serves as a distinguished research fellow with the Institute for Physical Science, McLean, Va., and an advisor for Marshall University's Institute for Interdisciplinary Research, Huntington, W.Va. Prior to his current position, Hawkins held several other positions at Los Alamos: director of Department of Defense programs, director of the Nonproliferation & International Security Division and Programs, and division leader of the International Technology Division. Prior to that, he served in the U.S. Air Force. Hawkins has a bachelor's degree in chemistry from Clemson University, Clemson, S.C., and a law degree from La Salle Extension University, Chicago, Ill.
The first U.S. military woman to fly in space, former astronaut Maj. Gen. Susan J. Helms, USAF, is now director of plans and policy for the U.S. Strategic Command, based at Offutt Air Force Base, Neb. While she was an Air Force major and a member of the Space Shuttle Endeavour crew, she flew on four Shuttle missions and served aboard the International Space Station as a member of the Expedition-2 crew. Helms earned a bachelor's degree in aeronautical engineering from the U.S. Air Force Academy and a master's degree in aeronautics/astronautics from Stanford University.
Regarded as the world's premier authority on space debris, Nicholas Johnson is NASA's chief scientist for orbital debris, based at the NASA Johnson Space Center. He serves as the agency expert on debris, including all aspects of environment definition, present and future, and the operational and design implications of the environment to both manned and robotic space vehicles operating in Earth orbit. He leads the United States delegation to the Inter-Agency Space Debris Coordination Committee and serves as the United States technical expert on orbital debris at the United Nations.
Joseph Sheehan is president of Exton, Pa.-based AGI, which develops physics-based commercial off-the-shelf software that computes and depicts the relationships among moving objects over time. Before taking the helm at AGI in 2009, Sheehan spent 12 years with TruePosition Inc., a leading provider of location determination and intelligence solutions for safety and national security markets, where he served as software development director, vice president – product development, chief technology officer and, ultimately, president and chief operating officer. Prior to TruePosition, Sheehan worked in software engineering at Teletrac and SAIC. He holds a B.S. in computer science from Washington University in St. Louis.
About MEDB and the AMOS Conference
The Maui Economic Development Board is a nonprofit organization that works with an extensive network of public, private, and nonprofit partners to achieve a balanced economy for the community of Maui, Hawaii, while protecting the community's environmental and cultural values. The AMOS – Advanced Maui Optical and Space Surveillance Technologies – Conference, presented by the MEDB, is a premier international conference on space situational awareness and imaging technology that facilitates information-sharing and collaborative partnership development among researchers involved in space surveillance, optical systems development, and imaging enhancement. The 11th annual conference is scheduled for Sept. 14-17.
About the 26th National Space Symposium
The 26th National Space Symposium offers workshops, forums, panels, and presentations covering all aspects of space. This includes the Congressional Luncheon; Corporate Partnership Dinner; the General James E. Hill Lifetime Space Achievement Award Luncheon; the Space Technology Hall of Fame® Dinner; and the new Cyber 1.0. The Symposium also includes engaging programs for selected teachers and students; the extensive AMERICOM Government Services (AGS) Exhibit Center; and greatly expanded programs for young, up-and-coming "new generation" space professionals.
The National Space Symposium's top allure to attendees, exhibitors, sponsors, and speakers is as a venue for networking and conducting meaningful business. Online registration and more information, including agenda, speakers, and exhibitors, are available at www.NationalSpaceSymposium.org.
26th National Space Symposium Sponsors
Sponsors of the 26th National Space Symposium include AGI, AMERICOM Government Services (AGS), ARES Corporation, Astrium North America, Astrotech Space Operations, ATK, AVIATION WEEK, Ball Aerospace & Technologies Corp., Boeing, Booz Allen Hamilton, Cisco Systems, Inc., Cobham, CSC, Defense Systems, General Dynamics, GMV, IBM, Intelsat General Corporation, International Space University, Lockheed Martin, Maui Economic Development Board, Northrop Grumman, Orbital, Pratt & Whitney Rocketdyne, Raytheon, SAIC, Space Generation Advisory Council, Space News, Space Systems/Loral, SpaceX, Stellar Solutions, United Launch Alliance, and United Space Alliance.
Additional sponsorship opportunities are available; interested companies should contact [email protected]. To be put on the waiting list for exhibit space, contact [email protected].
About the Space Foundation
The Space Foundation is an international, nonprofit organization and the foremost advocate for all sectors of the space industry – civil, commercial, military and intelligence. Founded in 1983, the Space Foundation is a leader in space awareness activities, educational programs that bring space into the classroom, and major industry events, all in support of its mission "to advance space-related endeavors to inspire, enable, and propel humanity." An expert in all aspects of the global space industry, the Space Foundation publishes The Space Report: The Authoritative Guide to Global Space Activity and provides three indices that track daily performance of the space industry. Through its Space Certification and Space Technology Hall of Fame®  programs, the Space Foundation recognizes space-based technologies and innovations that have been adapted to improve life on Earth. Headquartered in Colorado Springs, the Space Foundation conducts research and analysis and government affairs activities from its Washington, D.C., office and has field representatives in Houston, Texas, and Cape Canaveral, Fla. For more information, visit www.SpaceFoundation.org. Follow us on Twitter, Facebook, and LinkedIn, and read about the latest space news and Space Foundation activities in Space Watch.
#   #   #
---
Posted in Space Foundation Press Releases