Space Foundation News
---
It's Not What I've Done; It's What We Gotta Do
Written by: developer
COLORADO SPRINGS, Colo.(Apr. 15, 2010) —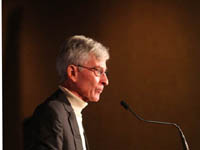 "It's not what I've done; it's what we gotta do."
That was how former Gemini, Apollo, and Space Shuttle Astronaut Captain John W. Young, USN (Retired), framed his brief, but powerful acceptance speech today when he was awarded the Space Foundation's highest honor – the General James E. Hill Lifetime Space Achievement Award.
Young called for the rapid industralization of the Moon and Mars, saying that we "owe it to our kids and grandkids" to explore a settle new worlds for them. He said that there are many reasons to explore space, but chief among them is the attititude of "let's go do it." Young also thanked the audience, primarily space leaders participating in this week's 26th National Space Symposium at The Broadmoor Hotel in Colorado Springs, Colo., because, he said, many were responsible for helping him and other astronauts do what they do.
Space Foundation Chairman of the Board Bill Ballhaus, Ph.D., presented the award at a luncheon honoring Young, sponsored by Raytheon. Bill Hart, vice president, space systems for Raytheon Space and Airborne Systems, was the luncheon host.
Young, who walked on the Moon during the Apollo 16 mission in 1972 and piloted the first Space Shuttle in 1981, is the only astronaut to have piloted four different classes of spacecraft: Gemini, Apollo Command/Service Module, Apollo Lunar Module, and Space Shuttle. During his 42 years with NASA, Young flew six missions including two to the Moon, set a lunar rover speed record on the Moon's surface, and was the first person to orbit the Moon alone during the Apollo 10 mission.
---
Posted in Space Foundation News