Report from Headquarters
---
Everybody's Watching Space
Written by: developer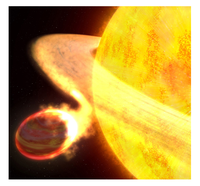 Space is all over the news and poular media, from fascination with the Hubble Space Telescope to the drama of final months of the Space Shuttle program. For your enjoyment, here's a look at some fun with space:
Click here to see a unique time-lapse video of STS 131, condensing six weeks of launch preparation into a three-minute video.
David Letterman gets worked up about seeing the STS 132 launch. Click here to see.
Fun with Alka-Seltzer aboard the ISS on YouTube.
"Hubble Gotchu" is a different kind tribute on Jimmy Fallon, here.
Click here to go to the CBS news report on Hubble discovering a star eating a planet.
You can view a variety of free space videos here.
This article is part of Space Watch: June 2010 (Volume: 9, Issue: 6).
---
Posted in Report from Headquarters