Report from Headquarters
---
Space Foundation Team Attends Atlantis Launch
Written by: developer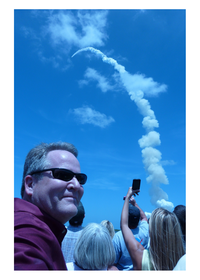 A delegation of six Space Foundation team members witnessed the May 14 launch of NASA's Space Shuttle Atlantis as it headed for the International Space Station (ISS) on its last planned mission. But the launch had special meaning for one member of the group. 
"This was worth waiting 29 years for," said Director – Information Technology Fred Colclough, who holds what may be the record for failed attempts to witness a Space Shuttle launch. Colclough had previously made 13 trys to witness a launch in person, only to have missions scrubbed, postponed, or canceled. An ardent space fan even before joining the Space Foundation, Colclough has watched every launch on television. Ironically, Atlantis' final launch was Colclough's first success.
His previous attempts failed for a number of reasons – a lightening strike, a tropical storm, technical problems, and on one occasion a private boat made its way into the restricted area, forcing a scrub.
Said Colclough, "Only once did weather cause repeated scrubs so that I had to leave and miss the launch. All of the other weather delays were followed by technical issues causing the 'final' prolonged scrub."
On May 14, the weather was perfect for the final launch of Atlantis. The STS-132 crew comprised Commander Ken Ham, Pilot Tony Antonelli, and Mission Specialists Garrett Reisman, Michael Good, Steve Bowen, and Piers Sellers, all veteran astronauts. Both Good's and Sellers' first missions were on Atlantis, in 2009 and 2002, respectively.
The weather was equally ideal for the landing of Atlantis on May 26. The orbiter approached from the south and was visible for several minutes before landing at the Kennedy Space Center.
On this mission STS 132 traveled 4.9 million miles and 186 orbits around the Earth, with the goal of delivering the Russian-built Rassvet science module and spare parts to the International Space Station in anticipation of the retirement NASA's three orbiters. Since its first launch in 1985, Atlantis completed 32 missions and traveled more than 120 million miles.
See links to news coverage here, here, and here.
Pictured: Space Foundation Director – Information Technology Fred Colclough finally sees a Space Shuttle launch after 29 years and 13 attempts.

This article is part of Space Watch: June 2010 (Volume: 9, Issue: 6).
---
Posted in Report from Headquarters