Report from Headquarters
---
Former Space Foundation Board Member Dies
Written by: developer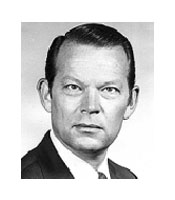 William H. Hudson, who served on the Space Foundation Board of Directors from 1994-2001, died July 27 in Colorado Springs, Colo.
Hudson was born July 9, 1930, in Perry, Mo., and grew up in Mexico, Mo. An Eagle Scout, he served two summers on the staff of Philmont, the national Boy Scout ranch in Cimarron, N.M. After graduating from Mexico High School in 1948, Hudson attended Carnegie-Mellon University in Pittsburgh, Pa., where he earned a degree in physics. He served as a communications officer for the 519th Military Police Battalion in Wonju, Korea, during the Korean War.
In 1954, Hudson began a more-than-30-year career with Corning Glass Works (Corning, Inc.), based in Corning, N.Y., where he held positions including manager – electronic products, president of Sovirel (Corning's largest subsidiary, located in Paris, France), senior vice president and general manager – Technical Products Division (manufacturer of windshields and transparencies for all of U.S. manned space vehicles, including the Space Shuttle fleet), president of the Consumer and Industrial Group, assistant to the chairman, president of the Glass and Ceramics Group, and member of the board of directors. He also served on numerous domestic and international boards of directors.
Upon his retirement from Corning, Hudson moved to Colorado Springs, where he co-founded the Colorado Springs Total Quality Partnership. He served on the boards of Analytical Surveys and the Space Foundation, served as visiting executive to the Department of Economics at Colorado College in Colorado Springs, and later became president of the World Affairs Council and was a member of the Pikes Peak Community College Advisory Board. He was an active member of the Broadmoor Community Church since 1987.
Hudson is survived by his wife of 56 years, Patricia; their three children, Anne Hudson McDavid (Raven) of  Colorado Springs, Mark Henry Hudson (Christine) of Colorado Springs, and Carolyn Ethington of Salt Lake City; and nine grandchildren. 
To see complete details, click here.
This article is part of Space Watch: August 2010 (Volume: 9, Issue: 8).
---
Posted in Report from Headquarters