Report from Washington, D.C.
---
Marquez, Panel Address U.S. Space Policy
Written by: developer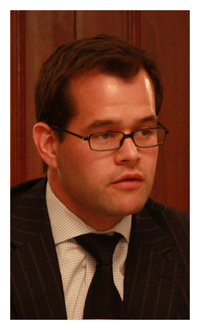 On July 22, the Space Foundation and the Global Technology Institute held a discussion on the recently released U.S. Space Policy featuring keynote speaker Peter Marquez, director of space policy for the National Security Council. Marquez, who is responsible for development and oversight of the President's space policies, said the administration is trying to maintain/re-focus on key principles that have been tenets of United States space policy since President Dwight Eisenhower created NASA in 1958. He said the current policy had diverged from the original mission to focus more on commercial and international utilization.
Following Marquez's remarks and a short question and answer period, a panel moderated by the Honorable Robert S. Walker further discussed components of the policy. Included on the panel were:
Ambassador Lincoln Bloomfield
Joshua Hartman, principal, Global Technology Institute
Marcia Smith, founder and editor of Space Policy Online
Brian Green, former deputy assistant secretary of defense for force management policy
Bill Adkins, president, Adkins Strategies, LLC
The entire panel praised the policy's increased focus on strengthening commercial industry, while committing to work with international space-faring nations to increase space situational awareness.
Green advised the audience that there is still a lot of work to be done, saying that failures in former U.S. space policies were due to poor implementation rather than flawed policy. He noted the importance of keeping space usable by sharing data with other nations and offered several ways to achieve that, including creating a space coalition. He acknowledged the difficulty of deciding important questions, such as, "Who does the United States rely on, how much do they rely on them, and if someone attacks another nation's space asset does the United States take action?" 
Pictured: National Security Council Director of Space Policy Peter Marquez
This article is part of Space Watch: August 2010 (Volume: 9, Issue: 8).
---
Posted in Report from Washington, D.C.