Report from Headquarters
---
Apply Now for Educator Award
Written by: developer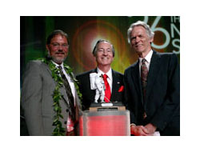 An exceptional educator will earn acclaim by winning the 2011 Alan Shepard Technology in Education Award – but you must apply to win.  The application deadline is Jan. 15, 2011.
Applications are now being accepted from teachers who have demonstrated a commitment to inspiring students' interest in science, technology, engineering and math (STEM). Given annually by the Astronauts Memorial Foundation (AMF), the National Aeronautics and Space Administration (NASA) and the Space Foundation, the Alan Shepard Technology in Education Award recognizes outstanding contributions to technology education by K-12 educators or district-level education personnel.
The Space Foundation will present the award, which is named after Mercury Astronaut Alan Shepard, on April 11 at the Opening Ceremony of the Space Foundation's 27th National Space Symposium at The Broadmoor Hotel in Colorado Springs, Colo.
Last year's winner was Allen V. Robnett, a science teacher at Gallatin High School in Gallatin, Tenn., who developed two innovative high-school-level courses that used compelling subjects and hands-on experiences to motivate students to build their science, math and technology skills. His Astronomy and Space Exploration class features an in-school planetarium and a rooftop observatory, and his Aviation Theory and Practice class provides actual textbook and simulator pilot training.
To Apply
Application information is available at www.AstronautsMemorialFoundation.org. Submissions for the 2011 award must be postmarked no later than Jan. 15, 2011. The winner will be announced on March 4, 2011.
Pictured: The 2010 Alan Shepard Technology in Education Award winner Allen V. Robnett (right) with Space Foundation CEO Elliot Pulham (left) and Dr. Stephen Feldman, president and CEO of the Astronauts Memorial Foundation (center).
This article is part of Space Watch: October 2010 (Volume: 9, Issue: 10).
---
Posted in Report from Headquarters