Report from Headquarters
---
Headquarters Announcement Attracts More than 100
Written by: developer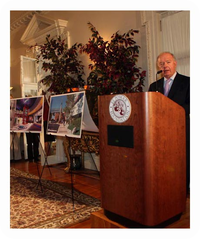 The Space Foundation's acquisition of and planned moved to a new headquarters facility in Colorado Springs was announced to a standing-room-only crowd of community leaders and media at Colorado Springs' Penrose House on Jan. 4. To see the official announcement, click here.
The event, hosted by the Space Foundation and the Colorado Springs Regional Economic Development Corporation (EDC), included remarks from Space Foundation CEO Elliot Pulham, El Pomar Foundation Chairman and CEO William J. Hybl, EDC President and CEO Mike Kazmierski and State of Colorado Economic Development Commission Member Jerry Biggs.
Purchase of the facility was funded by El Pomar Foundation and its internal Ackerman Fund and matching funds from the Colorado Economic Development Commission. The EDC helped locate the property and broker the real estate deal. For details, click here.
Speaking to the more than 100 guests and reporters, Hybl said, "As one of the first supporters of the Space Foundation nearly 30 years ago, El Pomar Foundation believed that a worldwide organization of this caliber based in Colorado Springs would truly benefit the city and the state of Colorado. That belief has been rewarded over time as the Space Foundation continues to be an economic and educational driving force on the local level, while maintaining a reputation for excellence on an international scale."
Kazmierski recounted the long process required to find and fund the purchase of the new facility, saying, "Retention of the Space Foundation has been a priority for the EDC for the past two and a half years. The long-term commitment by one of our community's treasured assets to stay and grow right here in Colorado Springs for years to come is something worth celebrating."
Biggs spoke about the Space Foundation's - and the space industry's - positive economic impact on the state, including the National Space Symposium's more than $25 million annual local economic impact. He also talked about how the new headquarters could have a positive impact on Colorado's other major industry, tourism. "The National Space Symposium introduces people to Colorado and many either stay over or come back after their Symposium experience," he said. "Plus, the new headquarters has the potential in becoming a destination in itself."
Pulham acknowledged the assistance and support of Bryan Construction and The Larson Group Architects in inspecting and assessing the building and planning for renovations, in addition to thanking donors and the community. Both firms are based in Colorado Springs.
"We are excited about being able to invite the community to interact with us, to showcase the extraordinary contributions space makes to our everyday lives and, over time, to grow our staff and services," said Pulham.
To find out about planned renovations and how you can help, click here.
Pictured: El Pomar Foundation Chairman and CEO William J. Hybl discusses contribution to the Space Foundation; photo by Thomas Kimmell 
This article is part of Space Watch: February 2011 (Volume: 10, Issue: 2).
---
Posted in Report from Headquarters