Report from Washington, D.C.
---
SLS Design Hearing Hampered by Delayed Decision
Written by: developer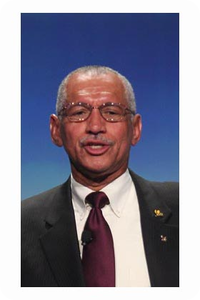 The House Science, Space and Technology Committee held a hearing on July 12 entitled "A Review of NASA's Space Launch System." The hearing was originally called to review NASA's final selection of its Space Launch System (SLS) design, but NASA had not yet selected a final SLS design at the time of the hearing. Rep. Ralph Hall (R-TX), chairman of the committee, said the fact that NASA did not have a final decision on the SLS was an "insult to Congress." Rep. Eddie Bernice Johnson (D-TX), ranking member of the committee, added it was "now past time for a decision and a plan to be announced."
Administrator Charles Bolden said he understood the congressional angst over the slow decision process, but noted he wanted to make sure NASA got this decision right. Details of Bolden's update on the SLS program follow:
NASA has procurement teams mapping SLS requirements (those outlined in the NASA Authorization Act of 2010 and those NASA is currently developing). At the same time, NASA is assessing SLS competition options, including the potential degree of competition.
NASA is strongly considering an early mission/test flight strategy that includes early flights that would begin with a lift capacity in the 70-100 metric ton range, sufficient to get out of LEO with meaningful mission content, with the first flight targeted for the end of 2017 and the second flight targeted for 2021.
Final acquisition decision for the SLS is expected in the next couple of months.
NASA has contracted with Booz Allen Hamilton to perform an independent cost assessment of NASA's integrated SLS/MPCV development approach.
Pictured: NASA Administrator Charles Bolden
This article is part of Space Watch: August 2011 (Volume: 10, Issue: 8).
---
Posted in Report from Washington, D.C.