Second View
---
Space Foundation Headquarters, Team Safe After Waldo Canyon Fire Sweeps into Colorado Springs
Written by: developer
Every month, Space Watch includes a Second View column that complements Chief Executive Officer Elliot Pulham's The View From Here column. However, because of the impact of the Waldo Canyon Fire to our Colorado Springs headquarters and our team, we have two this month. This one is from Pulham.
Dear Space Foundation Friends: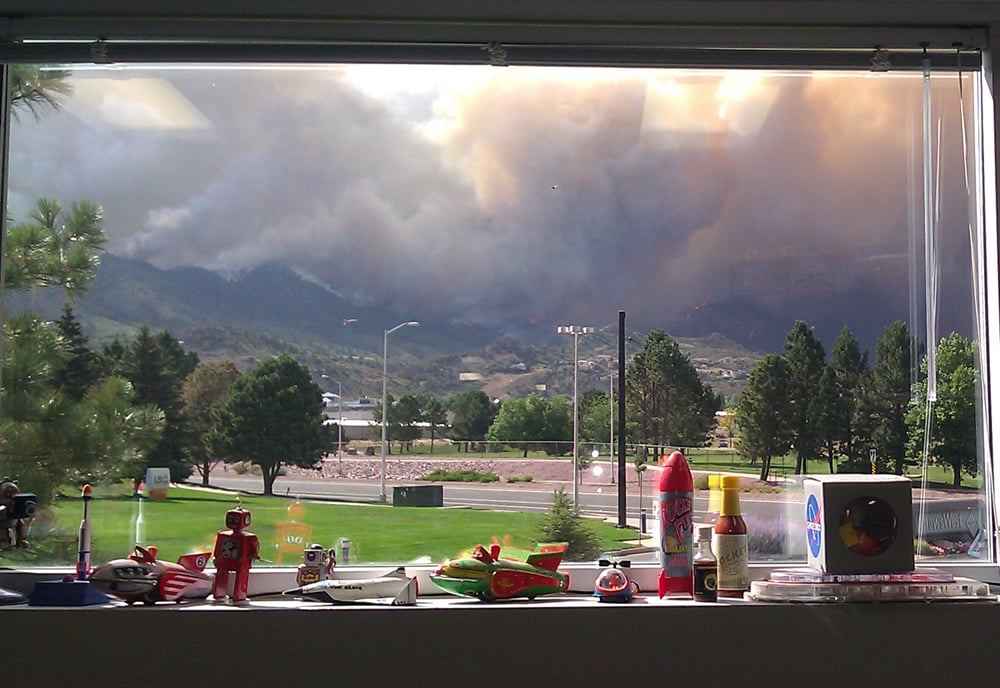 The Space Foundation's headquarters facility, which sits roughly a half mile from areas devastated by the Waldo Canyon fire in Colorado Springs, Colo., escaped damage and reopened Monday, July 2, after being evacuated the afternoon of Tuesday, June 26.
During the time the building was inaccessible, we set up a temporary command post and established alternative contact processes. Many of our team members and their families were also displaced during the height of the fire, which swept through neighborhoods in the foothills above our building and destroyed 346 homes.
We love our Colorado Springs home and are deeply saddened by the losses experienced by our neighbors and, unfortunately, by one of the members of the Space Foundation family who lost her home. As an evacuee myself, I know how difficult it is to go through an experience like this and I speak for our entire team when I say we appreciate the outpouring of concern from our friends and partners. We also appreciate their understanding and patience for any delays or disruptions they may have experienced during periods when our information and communication systems were off line.
During this ordeal we have many things to be thankful for: the extraordinary bravery and dedication of firefighters and law enforcement who prevented this tragedy from being much worse than it could have been, our local media - some of whom were also evacuees - who kept us informed 24/7 throughout the most active parts of the fire, our team members for pulling together - and continuing to pull together - to help one another and our corporate partners and friends for your support.
We are most thankful that, despite the material losses that some of our team members experienced, we are well and safe.
As I write this, the fire - the worst in Colorado history - still rages, but firefighters are making progress in containing the fire and preventing further damage. We pray for their success.

Elliot Pulham
Chief Executive Officer
Photos taken from Space Foundation headquarters
This article is part of Space Watch: July 2012 (Volume: 11, Issue: 7).
---
Posted in Second View