Space Foundation News
---
Last Day to Take Advantage of Early Bird Savings!
Written by: developer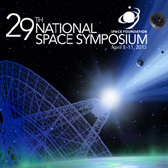 March 15 is the last day to save on standard industry registration for the Space Foundation's 29th National Space Symposium, to be held April 8-11 at The Broadmoor Hotel in Colorado Springs, Colo. Save up to $200 now at www.NationalSpaceSymposium.org/register.
The Space Foundation has adjusted its rate for active duty military and government personnel who register for the Space Symposium, lowering the cost to 2010 pricing. The government/military rate for the four-day Symposium is now $790.
Dynamic Speakers
Widely known as the premier space policy and program forum for the entire global space community, the Space Symposium will feature top-level international speakers and panelists, including:
Gen. Yves Arnaud, commander, Joint Space Command, French Ministry of Defense 
Brig. Gen. Christian Badia, head of division, Strategic Defence Planning & Concepts, German Federal Ministry of Defence 
Craig R. Barrett, Ph.D., retired CEO/chairman of the board, Intel Corporation 
Romain Bausch, president & CEO, SES 
Ambassador Jacek Bylica, principal adviser and special envoy for non-proliferation and disarmament, European External Action Service, European Union 
Jean-Jacques Dordain, director general, The European Space Agency (ESA) 
Kiyoshi Higuchi, vice president, Japan Aerospace Exploration Agency (JAXA) 
Gen. C. Robert Kehler, USAF, commander, U.S. Strategic Command 
Jean-Yves Le Gall, chairman & CEO, Arianespace 
Junya Nishimoto, director, National Space Strategic Office, Cabinet Office of Japan 
Frank A. Rose, deputy assistant secretary of state for space and defense policy
Scott J. Seymour, president and CEO, GenCorp 
Gen. William L. Shelton, USAF, commander, Air Force Space Command 
Johann-Dietrich Wörner, chairman of the executive board, German Aerospace Center (DLR)
Lockheed Martin Exhibit Center is SOLD OUT
One of the main reasons to attend the Space Symposium is the dynamic Lockheed Martin Exhibit Center and Lockheed Martin Exhibit Center Pavilion, featuring the latest in space technology, products and services and the greatest number of international exhibits in Space Symposium history, plus 31 first-time exhibitors.
More than 160 space-related companies will be on display for Space Symposium registrants, invited guests, uniformed military and select groups of teachers and students. The exhibit center is not open to the general public.
Cyber 1.3
The Space Symposium is offered in conjunction with a separate Space Foundation conference, Cyber 1.3, to be held during the day on April 8, immediately preceding the Space Symposium's opening ceremony. The Honorable C.A. "Dutch" Ruppersberger (D-MD), Ranking Member, U.S. House Permanent Select Committee on Intelligence, will be a featured speaker at Cyber 1.3.
Space Symposium and Cyber 1.3 speakers and agenda are subject to change See the latest at www.NationalSpaceSymposium.org/agenda.
Register Now
Register securely now for both events at www.NationalSpaceSymposium.org/register. 
Cyber 1.3 and Space Symposium Co-Sponsors
Confirmed co-sponsors include: a.i. solutions; Aeroflex; Aerojet; Analytical Graphics, Inc. (AGI); Arianespace, Inc.; Astrium; ATK; Avionics Intelligence; Ball Aerospace & Technologies Corp.; Barrios Technology; Blue Ridge Networks; Booz Allen Hamilton; Colorado Space Business Roundtable; Colorado Springs Convention & Visitors Bureau; EADS North America; Euroconsult; Fisher Space Pen; Fluor; General Dynamics; Global Technology Resources, Inc. (GTRI); GMV USA; Government Executive Media Group; Inmarsat; Intelsat General Corporation; Lockheed Martin; Maui Economic Development Board; McCollister's Transportation; Millennium Engineering and Integration Co.; Moog; Müller-BBM VibroAkustik Systeme, Inc; Northrop Grumman; Pratt & Whitney Rocketdyne; Raytheon; SAIC; Secure World Foundation; SES Government Solutions; Space Generation Advisory Council (SGAC); SSL; SpaceX; Spincraft; Stellar Solutions; Stevens Institute of Technology; Tech Briefs Media Group; The Boeing Company; United Launch Alliance; Universities Space Researcg Association (USRA). Official media partners include Aviation Week, SatNews Publishers and SpaceNews.
---
Posted in Space Foundation News