Space Foundation News
---
New Generation Panel Features Space Leaders
Written by: developer
The annual Space Symposium features events, mentoring and networking opportunities specifically aimed at young space professionals age 35 or younger, part of the Space Foundation's New Generation Initiatives.
Workshops, luncheons and presentations help New Generation participants understand critical space issues, such as how policy and budgets are developed. Multiple networking events bring young professionals together with senior leaders in an informal environment. Plus, the daily Space Symposium master moderators are selected from the New Generation ranks.
Panel Gives Solid Career Advice
On April 10, a special panel entitled Good Management – The Path to Success, gave particpants a wealth of career advice from four space leaders. Here's a brief synopsis of the advice they offered:
Theresa Beech, president and chief executive officer, MetiSpace Technologies, Inc.: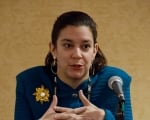 You don't have to be the best student, just the hardest working
People skills are the most important
Know yourself – strong points, weak points – and make that work
Take advantage of all opportunities and work really hard – other part is luck
Your partner is the most important decision in your life – professionally and personally; you have to marry someone who supports you for who you are
Don't let fear inhibit you – on some level, everyone's scared
Most people don't like conflict; get over it or learn to deal with it
Clay Mowry, president, Arianespace, Inc.: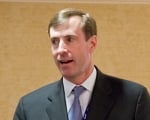 Make every job you have the best job in the world
Manage by walking around
At the end of an interview, tell your prospective employer that you're going to be amazing
Learn to communicate
Have a plan, build a team, execute and follow through; these are the four tasks of manager
Always be prepared for an interview
Know your company
Show you care
Ask your boss for career advice
The Honorable Patricia Grace Smith, former assistant administrator, Federal Aviation Administration; principal, Patti Grace Smith Consulting: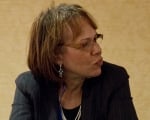 Know who you are, where you are and where you stand – only you can sort it out
Always have a plan
Learn from baptism by fire
Step up to opportunities – don't turn them down – have an open mind to take them on
Be a leader – set the vision that managers execute
Do what you know is right
Know where you stand when you reach crossroad in career
Listen more than you talk
Everyone makes mistakes – learn and move forward
Mark Valerio, vice president and general manager, military space, Lockheed Martin Space Systems Company: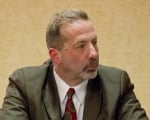 Spend more time in psychology than technology
There is no problem this country can't solve; the hardest part is putting together the team
Take the hardest job, meet your commitments, make your boss look good, make your team look good
Don't ask anyone to do anything you wouldn't do
Congratulate in public, criticize in private
Leave your job better than you found it
Take care of yourself and your family
It's all about the mission;
Don't be afraid to speak up if you see something you don't think is right
Take the time to talk and give feedback
See photos here.
---
Posted in Space Foundation News