Space Foundation News
---
Sirangelo Gives Life, Career Advice at New Generation Luncheon
Written by: developer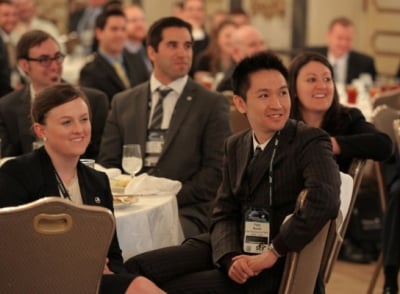 The annual Space Symposium features events, mentoring and networking opportunities specifically aimed at young space professionals age 35 or younger, part of the Space Foundation's New Generation Initiatives.
Workshops, luncheons and presentations help New Generation participants understand critical space issues, such as how policy and budgets are developed. Multiple networking events bring young professionals together with senior leaders in an informal environment. Plus, the daily Space Symposium master moderators are selected from the New Generation ranks.
Sirangelo Talks About Making the Impossible Possible

At this year's Space Symposium, the New Generation Leadership Perspectives Luncheon on April 11, co-sponsored by Astrium, featured an inspirational speech by Mark Sirangelo (pictured right), corporate vice president, Sierra Nevada Corporation Space Systems, who talked about how space has made the impossible possible.
"People tell you things are never possible and then you make them possible,' he said. "When we started Dream Chaser (Sierra Nevada's new space vehicle) and told people we were going to replace the Space Shuttle, we were told we were crazy." 
He talked about the impact of innovations such as Dream Chaser. "In the history of space travel, less than 600 people have traveled to space; new technologies are going to change that." 
For example, he said, because Dream Chaser can land at any airport, "More people can share in the passion (for space)."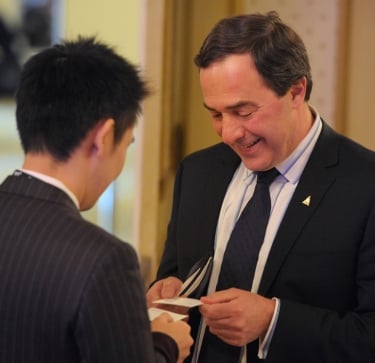 Among the advice Sirangelo shared with the audience was:
Don't worry about where you start; it's where you end that's important."
Always learn and persevere.
Say what you mean and live up to what you say.
Seeing things from a different perspective is a strength.
Faith and determination make disabilities become abilities.
Life is about making mistakes, just not the same one over and over.
Respect the past as the key to the future.
See photos of the luncheon here.
Pictured, above left, Sirangelo exchanges business cards with a New Generation participant.
---
Posted in Space Foundation News