Space Foundation News
---
Space Symposium Offers Panel Discussion for New Generation Space Professionals
Written by: developer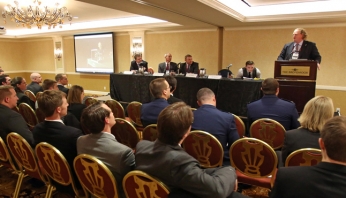 The Space Foundation's 29th National Space Symposium offered panel discussions, networking and programs specifically for young space professionals, age 35 and younger.
One of the New Generation panels addressed the topic, A Fresh Take on Old Concepts: Reusable Launch Vehicles, Smallsats and Satellite Servicing.
Panelists included:
Sean Mahoney, chief operating officer, Masten Space Systems
Andrew Nelson, chief operating officer, XCOR Aerospace
John Paffett, Ph.D., director, telecommunications and navigation, Surrey Satellite Technology LTD
Maj. Gen. Craig Weston, USAF, Ret., president and chief operating officer, U.S. Space, LLC
Weston began by saying, "Technology has matured. A lot of satellites need re-servicing, and it is cheaper to re-service satellites rather than replace them."
He offered two choices, "You can 1.) refuel satellites or 2.) doc new satellites to client satellites and use the new satellite's propulsion."
Paffett said, "We're seeing a significant increase in the capabilities of small spacecraft, $180 million to operate a small craft for seven years, compared to $500 million, earlier. Small satellites will continue to play an ever-increasing role in the market and long-term opportunities will continue to grow."
Paffett said in the last 15 years, things have changed, that there has been an increase in useful applications that aren't as expensive as decades ago.
Nelson said that when the person who designs the craft also reviews it and fixes it,the design issues disappear quickly.
He also said there is money to be had in the private markets, not government sector, and that's why development is moving forward.
"We've been in the trenches for 20 years now, and we're ready to emerge. We want to fly every day, now."
See More
See photos of the panel here.
---
Posted in Space Foundation News