Space Foundation News
---
Right now at the Discovery Center
Written by: developer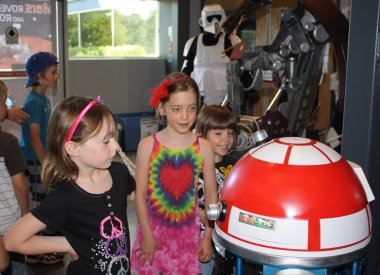 Today until 5:00,  June 15 – "Mars, Rovers and Robots" at the Space Foundation Discovery Center, 4425 Arrowswest Dr., off of Garden of the Gods Rd., west of Centennial Blvd., Colorado Springs.
During Summer of Discovery, each week focuses on a specific theme, culminating with a full day of special activities each Saturday, included in the price of the Saturday admission.
The theme for June 11 – 15 is "Mars, Rovers and Robots," exploring the role that robots and rovers play in space exploration.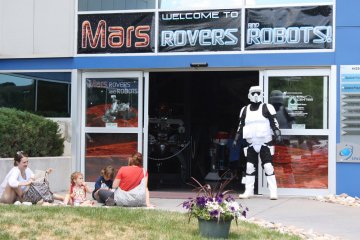 The June 15, "Mars, Rovers and Robots" activities include:
Meet your favorite Star Wars characters
Cool Science® Magic Show "How Cold is it in Space?" and hands-on science activities — Magic Show at 2:00 p.m.
Colorado Springs Police Department regional explosives unit robot demonstration, 1:00 p.m. until 4:00 p.m.
Andros F6A – a medium-sized robot platform that can perform a variety of tasks
Applied research associates' (ARA) Pointman – a small platform, surveillance and reconnaissance robot
Enjoy the new Space Foundation "Touch of Mars" interactive display
Science On a Sphere® demonstrations, featuring a unique spherical display that brings Mars and our Earth, Sun and Moon to life
Underwater robotics with remotely operated vehicles (ROVs) similar to the ones used to train astronauts
Robot demonstrations all day, featuring IEEE Colorado Technical University Student Branch, MITRE Robotics Challenge, Cougars Gone Wired – Team 2996, The Classical Academy Sea Pearch and Ameribotics®
Rocket models – Southern Colorado Rocketeers Remotec's
"Mars, Rovers and Robots" NASA Film Fest
Create your own ROBI robot and other crafts
Space artifact exhibits, including, rockets, rovers and space suits
Free Wendy's chili (while it lasts)
Bite Me Gourmet Sausages® and astronaut ice cream for sale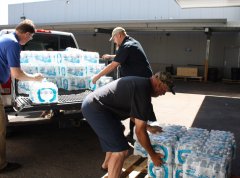 The highlight of the day so far was a generous donation of a truckload of bottled water for Care and Share Food Bank for Southern Colorado. The Space Foundation Discovery Center has been designated a collection point for Care and Share wildfire relief donations.
UPDATE: a second truckload of beverages arrived from another donor! Thank you to all of today's anonymous Care and Share donors!
Daily admission is $9 for adults, $7 for seniors (age 65+), $7 for college students with I.D., $3 for children ages 4-17. Children age three years and younger are admitted free.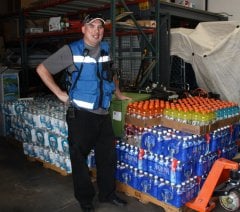 Admission to the Discovery Center is free with military I.D., to those affected by Colorado wildfires and to first responders.
Anyone bringing a donation for Care and Share will receive a $2 off admission coupon.
Come next week for "Astronauts!" June 18-22. See the scheduled activities here.
See a photo gallery of today's highlights here.
---
Posted in Space Foundation News