Space Foundation News
---
Discovery Center Features Family Fun this Saturday
Written by: developer
Lots of activity is coming to the Discovery Center in Colorado Springs this Saturday for the final day of "Women in Spaceflight." The Space Foundation Discovery Center is the region's only space, science and technology attraction, and is open to the public from 10:00 a.m. to 5:00 p.m., Tuesdays through Saturdays. The Discovery Center is located at 4425 Arrowswest Dr., Colorado Springs, Colo., off of Garden of the Gods Rd., west of Centennial Blvd.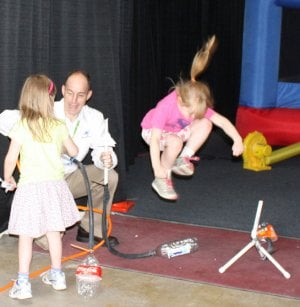 All of the following are included in the price of Saturday admission - $9 for adults, $7 for seniors (age 65+), $7 for college students with I.D., $3 for children ages 4-17. Children age three years and younger are admitted free. Admission is free with military I.D., to those impacted by Colorado wildfires and to first responders.
Free 3D Space Sticker Book & 3D Glasses to first 100 children
Stomp Rockets - optional: bring one 2-liter bottle to recycle and one 2-liter bottle to launch your stomp rocket (pictured)
Face-painting by Jubilee Creations (1:30 - 3:30 p.m.)
Interactive touch and learn activities
Bounce house for young children
Lunch available from Bite Me Gourmet Sausage Food Truck and Heartbeat Treats Emergency Cupcake Services (noon - 3:00 p.m.)
See more details and RSVP for presentations here.
Saturday, July 27, 11:00 a.m.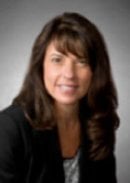 Presentation: "Why Space?"
Kathryn G. Tobey
Vice President, Military Support Programs, Lockheed Martin Space Systems Company
Tobey is responsible for the total cost, schedule and technical performance of the $600 million per year satellite development and production program, employing a 700 person workforce and management of 180 suppliers. Hear Tobey's perspectives and insights about why we go to space, what makes it unique and difficult and why space is the ultimate frontier.
3:00 p.m. 
Panel Presentation: "Women in Space...Our Future"
This panel discussion will focus on college and work experiences to prepare for a career in space, what it's like to work in the space industry and mentorships. A networking reception will follow the conclusion of the panel. Panelists include:
Erica Lieb, information systems, business development, ITT Exelis
Deborah L. McCarty, vice president, space programs, Lockheed Martin Corporation
Gen. Jane C. Rohr, mobilization assistant to the Commander, Air Force Space Command
Catherine J. Steele, vice president, strategic space operations, The Aerospace Corporation
Mars Lander Workshop, Saturday, July 27
Children of all ages will enjoy this opportunity to learn about basic principles of engineering. Small teams will design and build a "lander" for a raw egg out of materials such as paper clips, cardboard tubes, construction paper, foil, cotton balls, bubble wrap and tape. Teams will then get to test their landers by dropping them from a height of 10 feet onto a simulated Mars surface. The teams with the least damaged egg will win a prize. Workshops will be divided by age:
12:30 p.m. - ages 8 and younger
2:00 p.m. - ages 9 to 12
3:30 p.m. - ages 13 and up
About the Space Foundation Discovery Center
The Space Foundation Discovery Center is a collection point for Care and Share Food Bank for Southern Colorado. The public may bring food donations to the Space Foundation Discovery Center between 10:00 a.m. and 5:00 p.m., Mondays through Saturdays. Anyone bringing a food donation will receive a $2 off admission coupon to the Discovery Center.
Summer of Discovery co-sponsors are 501st Legion, Drive SunShine Institute, ScienSonic and Wendy's. ATK and Snappy Print are printing co-sponsors.
Other Summer of Discovery themes at the Space Foundation Discovery Center are:
"Colorado Days" July 30-Aug. 3
"A Taste of Space Technology" Aug. 6-10
For more information, call the Space Foundation Discovery Center at 719.576.8000.
---
Posted in Space Foundation News