Space Foundation News
---
What's Happening Friday, Aug. 9, at the Discovery Center
Written by: developer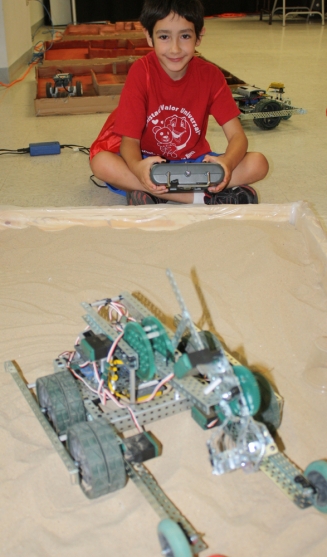 The Space Foundation's Discovery Center in Colorado Springs is the region's only space, science and technology attraction. Don't miss the final two days to visit the Discovery Center this summer, Friday and Saturday,  Aug. 9 and 10. 
Located at 4425 Arrowswest Dr., the Discovery Center is just off of Garden of the Gods Rd., west of Centennial Blvd.
Daily admission is $9 for adults, $7 for seniors (age 65+), $7 for college students with I.D., $3 for children ages 4-17. Children age three years and younger are admitted free. Admission is free with military I.D.
FRIDAY, AUG. 9, AT THE DISCOVERY CENTER
Audience with an Astronaut – Meet Dr. Leroy Chiao
11:00 a.m.
Former NASA astronaut and Space Foundation Special Advisor-Human Spaceflight Dr. Leroy Chiao will give presentations about his experiences as a Space Shuttle astronaut and as a resident of the International Space Station (ISS). Throughout the day and between presentations, he will be available to pose for photos and sign autographs.
Test drive an electric vehicle
Noon – 6:00 p.m.
Chevy Volt and Nissan Leaf provided by Drive SunShine Institute (DSI).
Try Apogee's RockSim software
10:00 a.m. – 5:00 p.m.
RockSim simulation software lets you design and build your own customized rocket and then simulate its flight to see how high, and how fast it will fly. You can also use it to find the best rocket motor combinations for your existing kits, and to teach yourself and others about the physics of rocket flight.
Fuel Your Inner Astronaut presented by King Soopers
10:00 a.m. – 4:00 p.m.
Join your King Soopers dietician, Danelle Vallejos, RD, for an out of this world nutrition experience. Food for Thought: Back to School Nutrition Basics will be presented at 11:30 a.m. and 3:30 p.m.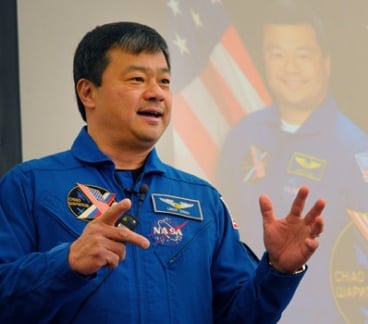 A View from Space by Dr. Leroy Chiao
3:00 p.m.
Lecture by astronaut and photographer Dr. Leroy Chiao. One of Chiao's tasks as Expedition 10 Commander on the International Space Station was to photograph various meteorological and atmospheric phenomena, as well as geographical, manmade and natural landmarks. He took more than 24,000 photos during his time in space and will share some of them during his talk.
Science SLAM – ADULTS ONLY, ages 21 years+
6:00 p.m. – meet and greet
6:30 – 8:30 p.m. – Science SLAM
$23 at the door (includes beer and wine and admission to the Discovery Center)
A Science SLAM consists of several ten-minute scientific talks in front of a non-expert audience. The focus is on an entertaining presentation. It doesn't matter if you are a student, Ph.D. candidate, professor, or space industry representative, the goal is to make the presentation as exciting as possible and the topic understandable for novices. Participants can come from all areas of science, from particle physics to social sciences, from history to art theory. The medium of presentation can range from a traditional talk to dance choreography, a stage play or a self-composed song.  The audience is the jury and elects the winner of the evening.
Activities Friday and Saturday
Science On a Sphere® demonstrations
"Launch to the Moon" and NASA Space Shuttle exhibit and artifacts
Lego NXT robotics demonstrations
Shepard Moon Golf
Scavenger hunts
Create an Alien and Design a Mission Patch crafts
For details on Saturday activities, click here, or call the Discovery Center at 719.576.8000.
Closing for Expansion; Reopening Sept. 3
The Discovery Center will close next week for expansion and construction, and will reopen after Labor Day, on Tuesday, Sept. 3. 
---
Posted in Space Foundation News