Space Foundation News
---
Save the Date! 2nd Annual Space & Science Fiction Halloween Ball
Written by: developer
Start planning a costume now for the 2nd Annual Space & Science Fiction Halloween Ball, to be held at the Space Foundation Discovery Center, 4425 Arrowswest Dr., Colorado Springs, on Saturday, Oct. 26, 7:00-11:00 p.m. Proceeds from admission, the cash bar and silent auction will support Space Foundation initiatives. You must be 21 years or older to attend.
Admission is $25 in advance; $30 at the door, and includes appetizers, two drinks per person, and the evening's activities – dancing, science fiction and classic monster film fest and costume contest. Visit www.scifisprings.com for more details and to purchase tickets.
And as a service to guests and the community, the Space Foundation has arranged for Designated Driver of Colorado Springs to provide drive-home service from the Ball. Transportation is provided in the guest's own vehicle beginning at 10:00 p.m., and anyone using this service must provide current proof of insurance.
Click here to see photos from last year's Space & Science Fiction Halloween Ball.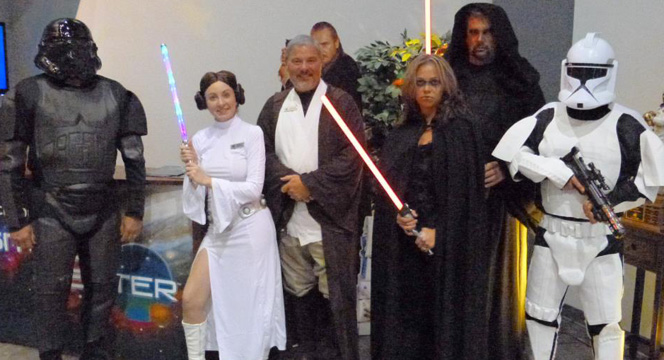 This article is part of Space Watch: September 2013 (Volume: 12, Issue: 9).
---
Posted in Space Foundation News