Space Foundation News
---
Summer of Discovery Continues Through Aug. 16
Written by: developer
There's still time to experience Summer of Discovery at the Discovery Center in Colorado Springs. Space-themed activities for all ages continue through Saturday, Aug. 16.
Plan now for the grand finale of Summer of Discovery, a beer tasting event, "Rocket in My Beer," to be held at the Discovery Center Saturday, Aug. 16, from 1:00 – 5:00 p.m. Buy a wristband for $19 in advance, or $24 at the door, and spend a relaxing afternoon sampling the area's finest brews including: Bristol Brewery Company, Fieldhouse Brewing Company, Fossil Brewing Company, Great Storm Brewing, Green Man Taproom & Beer Garden, Nano 108 Brewing Company, Phantom Canyon Brewing Company, Pikes Peak Brewing Co., Red Leg Brewing Company and Smiling Toad Brewery. The event is sponsored by Beer Drinker's Guide to Colorado and All Colorado Beer Festival.
The Space Foundation Discovery Center is located off of Garden of the Gods Road at 4425 Arrowswest Drive, and is the region's first and only space, science and technology attraction.
The Discovery Center is open Tuesday through Saturday, 10:00 a.m. – 5:00 p.m., with occasional evening events. The Discovery Center is closed on Sunday and Monday and on holidays.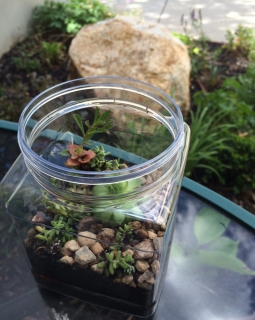 Weekdays there are interactive exhibits, space-themed crafts, learning activities for all ages, such as a make-and-take space garden (pictured, $6 additional fee).
Friday, Aug. 8, will feature science demonstrations by Cool Science® from 11:00 a.m. – 4:00 p.m. Every day during Summer of Discovery, you can use technology to create a photo of yourself, pictured in a Space Shuttle or ISS Suit.
Saturday at the Discovery Center
Our friends from Serenity Forge, a video game developer based in Boulder, Colo., will be here all day on two Saturdays, Aug. 9 and 16, showing off their latest video game, "Luna's Wandering Stars" in our AGI Space Missions Simulation Laboratory, included in the price of Discovery Center admission.
"Luna's Wandering Stars" is an action-puzzle game that simulates real orbital physics. Play the game and see what happens to the physics of planets and moons when you interact with black holes, wormholes, changing velocity and even moving entire planets.
Aug. 9 activities will conclude with a concert by Colorado Springs Conservatory at 4:00 p.m., followed by a showing of a new video produced by KCME-FM classical music. Entitled "What Lies Beyond," the 9-minute video will be introduced by KCME radio host Michael Campion. 
Please see our website for further details at www.spacefoundation.org/events/summer-discovery. Activities are subject to change.
Thank you to our Summer of Discovery sponsors: ATK; Allegra; BKD, LLP; Ent Federal Credit Union; Mido; OneTouchPoint — Mountain States; SpaceUnited; TCF Bank; Wells Fargo and Wendy's.
Discovery Center Fees
Discovery Center daily admission fees are $10 for adults, $7.50 for seniors (age 65+), $7.50 for college students with I.D., $4.50 for children ages 4-17. Children age three years and younger are admitted free. Military fees are $5.00 for adults with I.D., and $4.00 for military children ages 4-17 with I.D. Military includes active duty, guard, reserve or retiree with I.D.
For information, call 719.576.8000 or visit www.spacefoundation.org/museum.
---
Posted in Space Foundation News