Space Foundation News
---
Brunswick Elected Space Foundation Chief Operating Officer
Written by: developer
The Board of Directors of the Space Foundation has elected Lt. Col. Shelli Brunswick, USAF, (Ret.), as Chief Operating Officer, effective Jan. 12, 2015. Brunswick assumes responsibility for Space Foundation operations, processes, and facilities, reporting to Chief Executive Officer Elliot H. Pulham.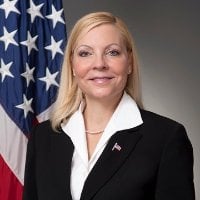 "The Space Foundation is excited to have Shelli Brunswick join our team during this transformational time for our organization and industry," said Pulham. "She brings deep space industry knowledge and experience, award winning leadership skills, and a global perspective that will serve the Space Foundation and the space industry very well."
"Shelli is a dynamic and experienced leader who will strengthen our extraordinary team at the Space Foundation," added Lon Levin, Chairman of the Board. "She will be a solid complement to Elliot as he leads the rapid growth of the Foundation."
Brunswick joins the Space Foundation after a distinguished career in leadership as an acquisition and program management professional for U.S. Air Force Space Command, including postings in Colorado Springs and Los Angeles. Brunswick was a space acquisition professional at Space and Missile Systems Center (SMC), a team leader and program integrator for the Defense Contracts Management Agency, and served an executive internship with industry supporting the C-17 program. For the past five years, she has been a key leader within the Air Force Legislative Liaison office in the Pentagon, maintaining key Congressional relationships for the Air Force.
Brunswick graduated summa cum laude from the University of Southern Colorado in 1994 with a bachelor's degree in business administration, and earned a master's degree in business administration from the University of Phoenix in 1998. She is a Certified Project Management Professional, and was a Professor of Acquisition Management at Defense Acquisition University.
As Chief Operating Officer, Brunswick will serve as a corporate officer, and will be responsible for Space Foundation operations, facilities, processes, and personnel. Functions reporting to her include operations, human resources and administration, customer service, information technology, facilities, maintenance, security and assurance. She will have primary responsibility for Space Foundation headquarters, the Space Foundation Discovery Center, and operational management of the annual Space Symposium.
This article is part of Space Watch: January 2015 (Volume: 14, Issue: 1).
---
Posted in Space Foundation News