Space Foundation News
---
See "Great Balls of Fire" Now at the Discovery Center
Written by: developer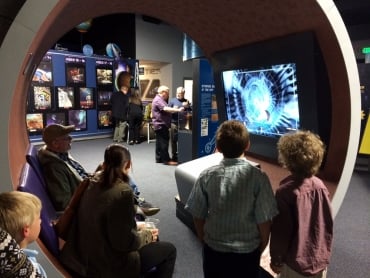 Are meteorites a threat to our planet? Find out at the Space Foundation Discovery Center in Colorado Springs! "Great Balls of Fire: Comets, Asteroids, and Meteors" is a national traveling exhibit at the Discovery Center through Sept. 12.
This spectacular 3,000 square foot interactive exhibit details the origins and study of asteroids, comets and meteors, and examines potential threats to our planet. The "Great Balls of Fire" exhibit is on loan from the Space Science Institute in Boulder, and is included in the price of admission to the Discovery Center. The exhibit is made possible through sponsorship by: Elliot and Cynthia Pulham; and In honor of Anna and Kathryn Probert.
Learn about the Discovery Center's Summer of Discovery 2015 theme — "Take a Space-cation" — and how to become a Passport Member here.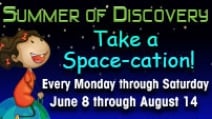 About the Space Foundation Discovery Center
The Space Foundation Discovery Center is the region's only space, science and technology attraction, and is located at 4425 Arrowswest Drive in Colorado Springs, just off of Garden of the Gods Road. Current school year hours are Tuesday through Saturday, 10:00 a.m. – 5:00 p.m. Summer hours, effective June 1, will be Monday through Saturday, 10:00 a.m. – 5:00 p.m.
Discovery Center daily admission fees are $10 for adults, $7.50 for seniors (age 65+), $7.50 for college students with I.D., $4.50 for children ages 4-17. Children age three years and younger are admitted free. Military rates are $5.00 for adults with I.D., and $4.00 for military children ages 4-17 with I.D. Military includes active duty, guard, reserve or retiree with I.D.
---
Posted in Space Foundation News