Space Technology Hall of Fame
---
Willie Nelson and Frank Sinatra on the Wonders of Space Technology
Written by: developer
What do Frank Sinatra and Willie Nelson have in common? Their appreciation for space technology.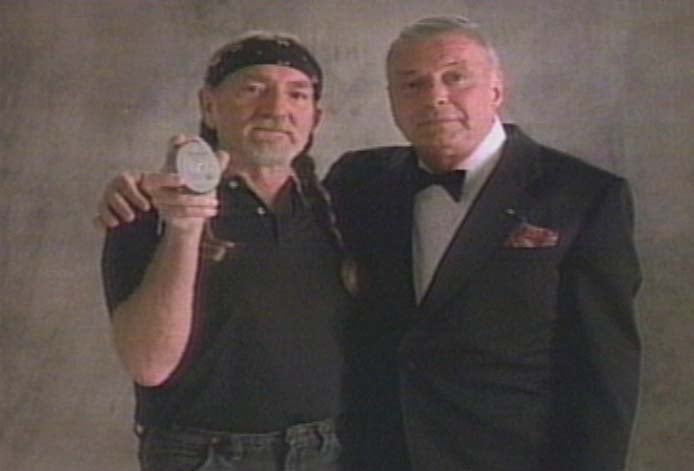 In the early 1980s, the Space Foundation created a series of public service announcements (PSAs) to inform people about the many tangible benefits of NASA's space program. The television spots showed how the benefits reach all facets of everyday life, from advanced medical imaging to improved weather forecasting.
In the aforementioned PSA featuring Frank Sinatra and Willie Nelson, the two discuss the wonders of medical imaging. See it on YouTube here.
Digital imaging was developed in the mid 1960's to explore the lunar surface. Conventional camera equipment mounted in the unmanned Ranger spacecraft returned distorted, lopsided images from the moon. NASA's Jet Propulsion Laboratory engineer Dr. Robert Nathan began developing the first operational digital image processing software to address this problem. Digital Imaging - a process that turns analog signals into digital signals which are, in turn, fed into a computer for enhancement - returned sharp, accurate images of the lunar surface.
The Space Technology Hall of Fame recognizes the life-changing technologies emerging from global space programs; honors the scientists, engineers and innovators responsible; and communicates to the public the importance of these technologies as a return on investment in space exploration. The Space Technology Hall of Fame™ will celebrate its 30th anniversary at the 33rd Space Symposium in Colorado Springs, April 2017.
Some of the technologies inducted to the Space Technology Hall of Fame which involve medical imaging:
1994: Digital Image Processing Programs
1997: Advanced Communications Technology 
1997: Stereotactic Breast Biopsy Technology 
1999: Active Pixel Sensor
2001: Quantum Well Infrared Photodetectors (QWIP) 
2008: AterioVision
2013: Mediphan DistanceDoc and MedRecorder 
Learn more about all of the inducted technologies here.
This article is part of Space Watch: September 2016 (Volume: 15, Issue: 9).
---
Posted in Space Technology Hall of Fame