Space Symposium
---
Gen. Pawlikowski is Featured Speaker for Women's Global Gathering
Written by: developer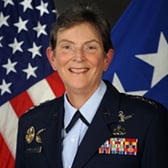 The Space Foundation's first Women's Global Gathering will be held on the last day of the 33rd Space Symposium, Thursday, April 6, from 12:15 to 1:45 p.m., at The Broadmoor in Colorado Springs. The featured speaker for the Gathering will be Gen. Ellen M. Pawlikowski, USAF, Commander, Air Force Materiel Command, Wright-Patterson Air Force Base.
The event will include a luncheon, followed by a panel of senior leaders, sharing their insights into the important role of women in the exploration of space. The panel moderator is Dr. Alice Bunn, Director of Policy at the UK Space Agency and member of the Space Foundation Board of Directors. The panelists are:
Maj. Gen. Nina M. Armagno, USAF, Director of Strategic Plans, Programs, Requirements and Analysis, Headquarters Air Force Space Command, Peterson Air Force Base
Professor Pascale Ehrenfreund, Chair of the Executive Board, German Aerospace Center (DLR)
Maureen Ryan O'Brien, Manager, Strategic Alliances, Office of Communications, NASA Headquarters
Susan Opp, President, Space & Power Sector, L3 Technologies
Becky Yoder, CPA, Chief Executive Officer, Surrey Satellite Technology U.S.
The Women's Global Gathering is open to men and women, and to Symposium registrants and the general public. Purchase luncheon tickets now here.
Sponsorship
Co-sponsors for the Women's Global Gathering are Harris Corporation, L3 Technologies and The Broadmoor.
This article is part of Space Watch: March 2017 (Volume: 16, Issue: 3).
---
Posted in Space Symposium