Space Foundation Press Releases
---
Submit Abstracts Now for 36th Space Symposium Tech Track
Written by: Space Foundation Editorial Team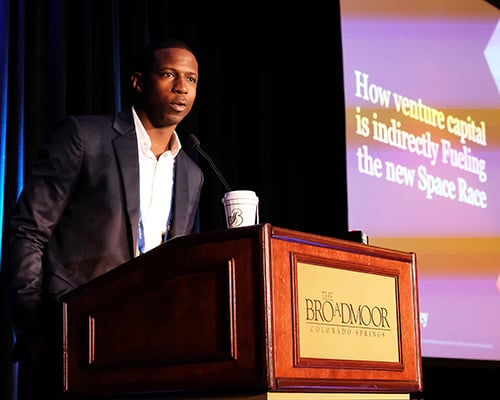 COLORADO SPRINGS, Colo. (Oct. 2, 2019) – The Space Foundation is now accepting abstracts for its Tech Track session during the 36th Space Symposium, March 30 – April 2, 2020. Authors may submit abstracts for consideration using the following link until November 15, 2019: www.spacesymposium.org/tech-track.
All abstracts and final papers must cover, or be related to, one of the topics listed below. Emphasis should be given to future space issues, activities, or emerging technologies.
Science and Exploration: human, planetary, etc.
Space Tech: hardware, launch, space operations, infrastructure, small satellite, commercial launch, etc.
Space Applications: earth observation, data, etc.
Space and Society: policy, public space awareness, education, governance, STEM, future space strategy, etc.
The Tech Track session, held Monday, March 30, 2020, includes keynote speakers and a series of 20-minute technical presentations selected from the wide variety of abstract submissions. Technical presenters range in age, profession, background, and nationality. These students, researchers, engineers, and industry professionals provide valuable information and insight into the challenges and achievements of the aerospace industry.
Key deadlines for authors are:
November 15, 2019: Abstracts due
January 10, 2020: Author notified of abstract acceptance
January 24, 2020: Author confirmation of participation
March 1, 2020: Full papers and presentations due
March 30, 2020: Tech Track presentations at the 36th Space Symposium
Please direct any questions to [email protected].
For more information on, or to register for, the 36th Space Symposium, visit: www.spacesymposium.org.
About the Space Foundation
Founded in 1983, the Space Foundation is the world's premier organization to inspire, educate, connect, and advocate on behalf of the global space community. It is a nonprofit leader in space awareness activities, educational programs, and major industry events, including the annual Space Symposium. Space Foundation headquarters in Colorado Springs, Colo., USA, has a public Discovery Center, including El Pomar Space Gallery, Northrop Grumman Science Center featuring Science On a Sphere® and the Lockheed Martin Space Education Center. The Space Foundation has a Washington, D.C., office and field representatives in Houston and the Florida Space Coast. It publishes The Space Report: The Authoritative Guide to Global Space Activity, and through its Space CertificationTM and Space Technology Hall of Fame® programs, recognizes space-based innovations that have been adapted to improve life on Earth. Visit both of our websites – www.SpaceFoundation.org and DiscoverSpace.org – and follow us on Facebook, Instagram, LinkedIn, Pinterest, Twitter, Google+, Flickr and YouTube, and read our e-newsletter Space Watch.
#  #  #
Space Foundation contact:
Carol Hively, Director – Public Relations & Team Communications
[email protected]
---
Posted in Space Foundation Press Releases