Space Foundation News
---
Space Foundation Board Selects Gene Kranz to Receive the 2020 General James E. Hill Lifetime Space Achievement Award
Written by: Space Foundation Editorial Team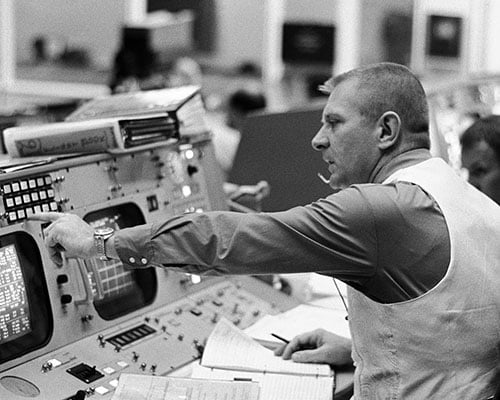 COLORADO SPRINGS, Colo. (Jan. 29, 2020) – Gene Kranz headed NASA's Mission Control during some of the most dangerous and most-watched missions of the Apollo era, including the Apollo 11 lunar landing and the oxygen tank explosion of Apollo 13. On March 30, Kranz will be honored during the Opening Ceremony of the 36th Space Symposium as the 2020 recipient of the Space Foundation's highest honor — the General James E. Hill Lifetime Space Achievement Award.
In announcing this year's recipient, Space Foundation Board Chairwoman and former NASA astronaut Dr. Kathryn Thornton said, "The power and respect that Gene delivered in leading flight control teams, the Flight Director Office, and all of the Mission Operation Directorate made a tremendous difference to my own missions to space, and helped secure American leadership in space for generations. He set performance metrics very high for everyone and we are all the better for it."
A 2010 Space Foundation survey ranked Kranz as the second most popular space hero.
Honoring the Space Foundation's late, long-time chairman, the General James E. Hill Lifetime Space Achievement Award recognizes outstanding individuals who have distinguished themselves with lifetime contributions to humankind through exploration, development, and use of space.
The award will be presented the evening of March 30, 2020, at the Opening Ceremony of the 36th Space Symposium at The Broadmoor in Colorado Springs.
Learn more about the Symposium by visiting www.SpaceSymposium.org, and see a list of previous Hill Award recipients at www.spacefoundation.org/what-we-do/awards.
About Gene Kranz
For all of the groundbreaking successes of NASA's legendary astronauts and spacecraft, none of those milestone achievements would have been possible without the skilled leadership talent NASA had on the ground. These successes hinged upon engineering prowess, creative problem solving, composure under pressure, commitment to mission safety, and leadership of "tough" and "competent" crews that have become the standard by which all other mission teams in the world are measured. No one individual better embodies that description than Gene Kranz.
As the lead Flight Director during the odd-numbered Apollo missions, later as Deputy Director of NASA Mission Operations in 1974, and Director of NASA Mission Operations in 1983, Kranz's presence at NASA's Johnson Space Center's Mission Control instilled confidence and competence during some of the most astonishing and adverse moments in spaceflight history.
Known to maintain an environment where failure was not an option, his leadership and discipline for flight control operations refined the protocols of his mentor, Chris Kraft. Those skills allowed for four decades of spaceflight crews and mission controllers to work together seamlessly, and to flex and function through unimaginable circumstances.
As integral as Kranz's leadership was to the successes of those space missions, so were his hands in shaping subsequent generations of engineers, scientists, operators, and other skilled talent in the aerospace community. That same talent that he led and mentored would not only supervise the remainder of the space shuttle program, but also forge working relationships with Russia and other international partners to design, build, and operate the most ambitious human engineering project in history — the International Space Station.
Gene Kranz is a person whose life and legacy echo throughout NASA's history and transcend the space community that he helped to shape for generations. He and the team of engineers he worked with took one of the space community's most potentially devastating situations — an explosion onboard the Apollo 13 spacecraft — and turned it into one of "NASA's finest hours."
Such leadership traits are what define all of the previous recipients of the General James E. Hill Lifetime Achievement Award, and that's why Eugene "Gene" Francis Kranz has been named the Space Foundation's newest recipient of this honor.
About the Space Symposium
The 36th Space Symposium is slated for March 30 – April 2, 2020, bringing together thousands of space professionals from the world's leading spacefaring countries to discuss and plan the future of space. See the agenda and registration information at www.spacesymposium.org.
About the Space Foundation
Founded in 1983, the Space Foundation is a 501(c)(3) nonprofit and the world's premier organization to inspire, educate, connect, and advocate on behalf of the global space community. It is a leader in space awareness activities, educational programs, and major industry events, including the annual Space Symposium. Space Foundation headquarters is in Colorado Springs, Colo., USA, and has a public Discovery Center, including El Pomar Space Gallery, Northrop Grumman Science Center featuring Science On a Sphere®, and the Lockheed Martin Space Education Center. The Space Foundation has a Washington, D.C. office, as well as field representatives in Houston and on the Florida Space Coast. It publishes The Space Report: The Authoritative Guide to Global Space Activity, and through its Space Certification™ and Space Technology Hall of Fame® programs, recognizes space-based innovations that have been adapted to improve life on Earth. Visit both websites — www.SpaceFoundation.org and DiscoverSpace.org — and follow us on Facebook, Twitter, Instagram, LinkedIn, and YouTube.
# # #
Space Foundation contact:
Carol Hively, Director – Public Relations & Team Communications
[email protected]
---
Posted in Space Foundation News