Space Foundation Press Releases
---
Shelli Brunswick Elected to Colorado Springs Chamber of Commerce and Economic Development Corporation Board
Written by: Space Foundation Editorial Team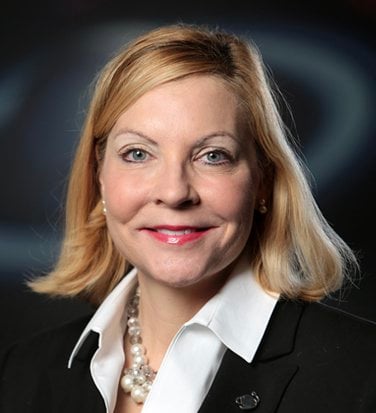 COLORADO SPRINGS, Colo. (May 12, 2020) — Space Foundation Chief Operating Officer Shelli Brunswick has been elected to served on the board of directors of the Colorado Springs Chamber of Commerce and Economic Development Corporation.
"Colorado Springs is a great place to live and work but it's an even greater place to do business," said Brunswick. "This is a community where business leaders, entrepreneurs, and innovators can seize potential for themselves and others. For nearly four decades, the Space Foundation has changed lives and made history in this community and there is even more to be made in the days to come. We are passionate about workforce development and economic opportunity and those are easy to find here. I am honored to have been selected to serve on the board and contribute to its mission."
"Shelli's leadership will be essential as we implement strategies to strengthen our economy and advocate for U.S. Space Command. Her background in aerospace and defense combined with her passion in economic and workforce development is a perfect fit for our Board of Directors," said Dirk Draper, president and CEO of the Colorado Springs Chamber & EDC. "We look forward to continued collaboration with the Space Foundation, especially Space Symposium, the premier gathering of space professionals in the world."
About Brunswick
As Chief Operating Officer for the Space Foundation, Brunswick serves as a corporate officer, and is responsible for Space Foundation operations, facilities, processes and personnel. Functions reporting to her include education, development/philanthropy, marketing and communication, operations, human resources and administration, customer service, information technology, facilities, maintenance, security and assurance. She has primary responsibility for Space Foundation headquarters, the Space Foundation Discovery Center, operational management of the annual Space Symposium and the Faga Forum on Space Intelligence. She also oversees government affairs activities in the Washington, D.C., office including relationships with government agencies, other space advocacy organizations and associations and corporate interests.
Brunswick joined the Space Foundation in 2015 after a distinguished career as an acquisition and program management professional for the United States Air Force and finished her career as a key leader within the Air Force Congressional Liaison office working both within the Pentagon and on Capitol Hill. She was Defense Acquisition Workforce Improvement Act (DAWIA) certified in Program Management Level III, Financial Manager Level II, and a certified Space Professional Level III by the United States Air Force Space Professional Functional Authority.
Brunswick was the Chair of Women in Aerospace (WIA) from 2016-2019.  Currently, she serves as the Chair of the WIA Foundation and is one of twenty-five women from around the world selected as a Space4Women Network Mentor, which is part of the United Nations Office for Outer Space Affairs (UNOOSA). As an advocate and mentor, Brunswick shares her expertise, knowledge, and experiences to build environments where women and girls can take their place as active and equal participants in space science, technology, innovation and exploration efforts. Throughout her career, Brunswick has dedicated considerable time and energy to increasing the leadership capabilities and visibility of women in the aerospace community.
In addition to these endeavors, Brunswick serves on the board of directors for Manufacturer's Edge, strengthening the competitiveness of manufacturers through coaching, training, and collaboration-focused industry programs, and by leveraging government, university, and economic development partnerships. She was elected to the Board of Directors of the Colorado Springs Chamber of Commerce & Economic Development Corporation, providing strategic, mission-based leadership and governance. Formerly, she was a board member for the National Defense Industrial Association (NDIA) Rocky Mountain Chapter.
Brunswick graduated summa cum laude from the University of Southern Colorado with a bachelor's degree in business administration and earned a master's degree in business administration from the University of Phoenix. She is a Certified Project Management Professional through Project Management Institute and was a Professor of Acquisition Management at Defense Acquisition University.
About Space Foundation
Founded in 1983, Space Foundation is a 501(c)(3) nonprofit and the world's premier organization to inspire, educate, connect, and advocate on behalf of the global space community. It is a leader in space awareness activities, educational programs, and major industry events, including the annual Space Symposium. Space Foundation headquarters is in Colorado Springs, Colo., USA, and has a public Discovery Center, including El Pomar Space Gallery, Northrop Grumman Science Center featuring Science On a Sphere®, and the Lockheed Martin Space Education Center. Space Foundation has a Washington, D.C., office, as well as field representatives in Houston and on the Florida Space Coast. It publishes The Space Report: The Authoritative Guide to Global Space Activity, and through its Space Certification™ and Space Technology Hall of Fame® programs, recognizes space-based innovations that have been adapted to improve life on Earth. Visit both websites — www.SpaceFoundation.org and DiscoverSpace.org — and follow us on Facebook, Twitter, Instagram, LinkedIn, and YouTube.
About the Colorado Springs Chamber & EDC
Serving as the area's largest chamber of commerce and economic development organization, the Colorado Springs Chamber & EDC works to build and maintain a superior business climate in which companies of all kinds can thrive, and supports current and future local business to fuel a diverse economy and high quality of life.
---
Posted in Space Foundation Press Releases