Space Foundation News
---
Space Symposium Campaign Wins Award of Excellence
Written by: Andrew de Naray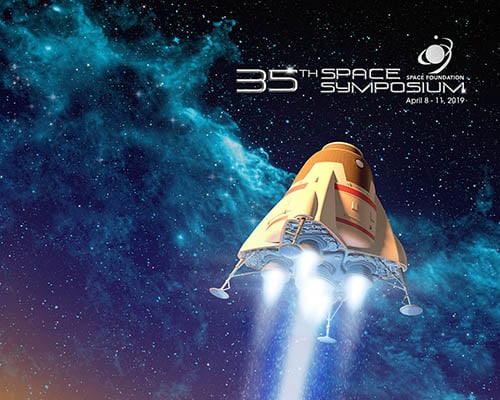 The biggest creative push during any given year at the Space Foundation is the creation and implementation of the advertising and event campaign for the annual Space Symposium, the largest event of its kind worldwide, which congregates as many as 15,000 people in Colorado each year to discuss and network around all things space.
It's a massive effort made all the more satisfying by the Marketing team recently receiving the 2020 Award of Excellence in the Campaign–Non-Profit category of the Communicator Awards, presented by the Academy of Interactive and Visual Arts (AIVA). The Communicator Awards is the leading international awards program in marketing and communications, receiving over 6,000 entries from companies and agencies of all sizes — making it one of the largest awards of its kind in the world. The Space Foundation's winning campaign was developed for the 35th Space Symposium in 2019 and this is the first international award for marketing materials that the organization has received.
The process for establishing each year's Symposium branding, look, and palate begins 18 months in advance, by hosting a competition for the poster design. Space artists from around the world compete for this honor, and Richard Green, from Seattle, Washington, won the honor of being selected as the 2019 poster artist. Once the art was selected, it became the inspiration for the design of all the components in the integrated campaign, including the website, advertising, programs, guides, displays, and signage. An added challenge in the production of the campaign, was that all of the components had to deploy six months in advance of the event.
A variety of sixteen samples from this campaign were submitted for consideration, including: digital, direct response and print advertising, programs, guides, and large format displays and signage. With regard to entering the competition, Nancy Reed, Director – Marketing & Creative Services said, "I've been an admirer of the annual Communicator Awards and its winners for many years and hoped that someday our creative team could compete in this well-respected international competition."
The Award of Excellence is the highest honor bestowed in the awards program, reserved for entrants whose communications position them as the best in their field. Other distinguished winners of the award in this category in recent years include, Bank of America, BAE Systems, Forbes, IBM, the American Psychological Association, NYU, AAA, Malala Fund, Deloitte, Anthem, Saatchi & Saatchi Wellness, Lockheed Martin, and more.
The Communicator Awards honor work that makes a lasting impact, providing winners and their clients the recognition they deserve, and awareness that their work is highly regarded by their industry peers. Submittals are judged by an invitation-only group of professionals from a variety of acclaimed media, communications, advertising, creative, and marketing firms. AIVA members include executives from organizations such as Condé Nast, Disney, The Ellen DeGeneres Show, Estée Lauder, MTV Networks, Pitney Bowes, Sotheby's Institute of Art, Time, Inc., Victoria's Secret, Wired, Yahoo!, and more.
Reflecting on the campaign and the accolade it has achieved, Reed said, "It was one of my favorite campaigns I have worked on in my 10 years at the Space Foundation. I was very proud of the contribution and creativity our team put forth to drive participation, highlight our sponsors, and to help provide a positive and memorable customer experience."
---
Posted in Space Foundation News