Space Foundation News
---
Rear Admiral, U.S. Navy (Ret.) and Space Foundation CEO Thomas Zelibor Joins Defense Innovation Board Space Advisory Committee
Written by: Space Foundation Editorial Team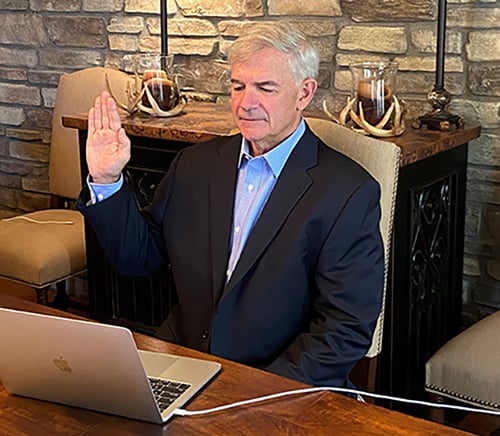 Zelibor to Share Unique Insights and Recommendations with the DoD, Based on His Perspective as a Former Military Leader Now at the Forefront of Space Innovation
COLORADO SPRINGS, Colo. — September 8, 2020 — Space Foundation, a 501(c)(3) global space advocate for 37 years, today announced that CEO and retired U.S. Navy Rear Admiral Thomas Zelibor has been named to the Defense Innovation Board Space Advisory Council (DIB SAC). In this role, he is tasked with providing independent advice and recommendations to the Secretary of Defense and other senior Department of Defense (DoD) leaders on emerging space technologies and innovative approaches that the DoD should adopt to ensure U.S. technological and military dominance.
The DIB parent board is composed of leaders from across the national security innovation base who can share diverse insights on the DoD's biggest challenges. Its newly established Space Advisory Committee, along with the Science & Technology (S&T) and Workforce, Behavior and Culture (WBC) committees, produce recommendations on topics such as artificial intelligence, software, data, digital modernization, and human capital.
Zelibor was chosen for the committee based on his established military career as well as his work furthering space innovation. He was recently sworn in as a member of the DIB SAC to serve a four-year appointment. Zelibor is uniquely qualified to identify and assess emerging space technologies that could benefit the DoD and all who sit under its watch.
"I am honored to join the DIB SAC and look forward to sharing the innovations taking place across the entire space ecosystem with our Department of Defense," said Zelibor. "I spent the first 34 years of my career in the U.S. military. It is where I discovered my passion for space-based technologies and all of the advantages they present to improve our armed forces' strategic, as well as tactical operations. With my appointment to the DIB SAC, I can serve my country once again, bringing new ideas and the latest technologies to the table."
About Zelibor
Zelibor has led Space Foundation, the world's premier organization to inspire, educate, connect, and advocate on behalf of the global space community, for the past three-and-a-half years. Under his guidance, Space Foundation introduced a bold new initiative, the Center for Innovation and Education, to create and deliver inclusive, innovative, and sustainable workforce development and economic opportunity programs for the rapidly growing $424 billion global space economy.
Prior to his role at Space Foundation, Zelibor served as Chairman and CEO of Lightwave Logic, a publicly traded corporation that conducts R&D and production of advanced, high-speed organic electro-optic materials for use in devices in the telecommunications, data center, and high-speed computing markets.
He was also president and CEO of Flatirons Solutions, a high-tech IT professional services and systems engineering company, where he was responsible for the overall strategic guidance and direction of business operations.
Zelibor served as director, eSpace Incubator at the Center for Space Entrepreneurship, where he managed a business incubator for aerospace startup companies. The incubator's mission was to help create and catalyze entrepreneurial aerospace companies, help those companies commercialize their technologies, and develop a workforce to fuel their growth.
During his esteemed military career, he served as director of global operations, U.S. Strategic Command, where he led day-to-day and long-range operations and planning for strategic nuclear assets; space systems; information operations; information networks; missile defense; and intelligence, surveillance and reconnaissance assets. As deputy for C4 Integration and Policy/Department of the Navy Deputy CIO, he was responsible for integrating the Navy's IT and command and control requirements into the "Sea Power 21" effort known as FORCEnet. At the same time, he served as the Navy's Chief Information Officer, where he was responsible for detailing warfighting requirements and information architecture from the seabed to space.
As director of the Space, Information Warfare, Command and Control Division, he was responsible for requirements and budget authority for all IT assets, directly managing the Navy TENCAP program and sponsorship for the Naval Space Cadre personnel that included space operations as well as space acquisition personnel. In his role as commander, Naval Space Command, he was directly responsible for the operations and maintenance of all the Navy's global telecommunications, information networks, and space systems, and he was the Navy flag officer responsible for support and sponsorship of all naval astronauts to NASA. His responsibilities also included duties as the Naval Component Commander to CINCSPACE (Colorado Springs) for Naval Space Operations.
Zelibor holds a bachelor's degree in oceanography from the United States Naval Academy and retired as a Navy rear admiral and Naval aviator with over 35 years of significant leadership experience. The highlight of his military career was as Commander, Task Force 50, where he led three U.S. carrier battle groups, two NATO carriers, nearly 60 other U.S. and coalition ships, 300 aircraft, and thousands of personnel in the North Arabian Sea conducting combat operations in Afghanistan subsequent to the terrorist attacks of Sept. 11, 2001.
Zelibor's other affiliations include: the National Association of Corporate Directors; Chair of the Board of Directors, Lightwave Logic, Inc.; Director, Dienen, Inc.; Director, Baker Street Scientific.; and Director, National Cybersecurity Center (member of the Space ISAC committee).
About Space Foundation
Space Foundation is a 501(c)(3) nonprofit advocate for the global space community. Through a partnership model, its Center for Innovation and Education unites the entire spectrum of global stakeholders, including public and private businesses, government agencies, educational institutions, and local communities, to serve the entire life cycle of the workforce, from students and young leaders to entrepreneurs and professionals. Best known for its annual Space Symposium, attended by 15,000 space professionals from around the world, Space Foundation also publishes The Space Report, its quarterly authoritative guide to research and analysis of the space industry. Headquartered in Colorado Springs, Colorado, Space Foundation's Discovery Center offers rich programming on-site and online for teachers, parents, and students. Visit Space Foundation at www.SpaceFoundation.org, and follow us on Facebook, Twitter, Instagram, LinkedIn, and YouTube.
###
All brand names and product names are trademarks or registered trademarks of their respective companies.
Tags: Space Foundation, space technology, space innovation, Thomas Zelibor, Defense Innovation Board, Department of Defense, Space Advisory Council, DIB SAC
Media Contact:
Rich Cooper
Vice President, Strategic Communications & Outreach
Space Foundation
(202) 596-0714
[email protected]
[email protected]
---
Posted in Space Foundation News