Space Foundation Press Releases
---
Space Symposium 365: February Schedule of Virtual Events Released
Written by: Space Foundation Editorial Team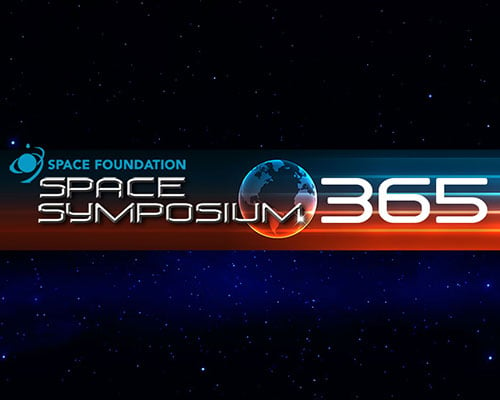 Panels with distinguished space leaders include "Construction on the Moon," "State of Space 2021," and "Women in Space"
One-on-one interviews with Lt. Gen. John E. Shaw, Deputy Commander, U.S. Space Command, and Dr. Derek Tournear, Director, Space Development Agency
Registration open to space community members worldwide, as well as students, educators, and young professionals
COLORADO SPRINGS, Colo. — Jan. 27, 2021 — Space Foundation, a 501(c)(3) global space advocate for nearly 40 years, has released the February schedule of events for its Space Symposium 365, the ultimate digital platform for space policy makers, industry professionals, and international partners, as well as students, educators, and young professionals.
Registration providing unlimited access to a year of Space Symposium 365 discussions, presentations, and more is available now at spacesymposium365.org.
The virtual Space Symposium 365 builds on the success of the annual in-person Space Symposium by featuring exclusive expert panels, interviews, mission updates, and roundtables that deliver insight into the space community's most pressing priorities, opportunities, and challenges. Past episodes are also available to all subscribers on demand.
Space Symposium 365 programming for February includes:
Recent Space Symposium 365 events have provided subscribers with outstanding exclusive programming, now available to all subscribers on demand. Those events have included the following highlights: an award presentation to legendary NASA flight director Gene Kranz of Apollo 13 fame, a NASA mission update and future prospects with former Administrator Jim Bridenstine, updates on standing up the Space Force with then-Air Force Secretary Barbara M. Barrett and U.S. Space Force CSO General "Jay" Raymond, an interview with Commander of U.S. Space Command Gen. James Dickinson, and a panel discussion with the International Space Station "Expedition One" crew to commemorate the 20th anniversary of continuous human operations.
More exclusive events with senior executives from civil, military, intelligence, and commercial sectors will be announced as they are confirmed. All events are available for registrants to watch at their scheduled times, or later on demand as desired. The platform also offers archived videos from past annual Space Symposiums.
In announcing the upcoming month's schedule, Space Foundation CEO Tom Zelibor shared, "Our annual in-person Space Symposium has traditionally served as a rallying point for the global space community, facilitating access to and knowledge transfer from leadership in all sectors. The Space Symposium 365 platform has continued to do the same, delivering powerful virtual content via safe and convenient digital means, while expanding the access to this exceptional programming."
Subscribe today and secure unlimited access to a year of Space Symposium 365 discussions, presentations, and more.
About Space Foundation
Space Foundation is a 501(c)(3) nonprofit advocate for the global space community. Through a partnership model, its Center for Innovation and Education unites the entire spectrum of global stakeholders, including public and private businesses, government agencies, educational institutions, and local communities, to serve the entire life cycle of the workforce, from students and young leaders to entrepreneurs and professionals. Best known for its annual Space Symposium, and now the digital Space Symposium 365, Space Foundation also publishes The Space Report, its quarterly authoritative guide to research and analysis of the space industry. Headquartered in Colorado Springs, Colo., Space Foundation's Discovery Center offers rich programming on-site and online for teachers, parents, and students. Visit Space Foundation at www.SpaceFoundation.org, and follow us on Facebook, Twitter, Instagram, LinkedIn, and YouTube.
###
All brand names and product names are trademarks or registered trademarks of their respective companies.
Tags: Space Foundation, Space Symposium 365, space economy, space commerce, workforce development, space technology, space innovation, virtual event, space programs, space community
Media Contact:
Rich Cooper
Vice President, Strategic Communications & Outreach
Space Foundation
(202) 596-0714
[email protected]
[email protected]
---
Posted in Space Foundation Press Releases