Space Foundation Press Releases
---
Space Foundation CEO Statement on the Successful First Flight of the NASA Ingenuity Mars Helicopter
Written by: Space Foundation Editorial Team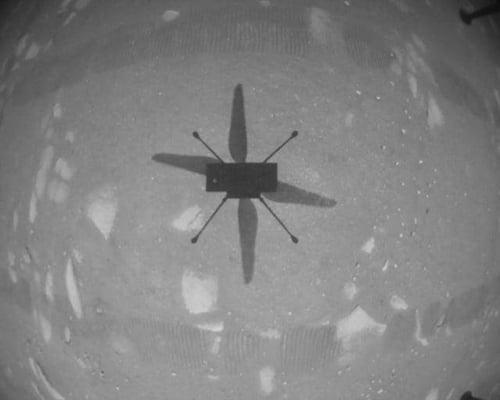 COLORADO SPRINGS, Colo. — April 19, 2021 — Tom Zelibor, CEO of Space Foundation, a nonprofit advocate organization founded in 1983, issued the following statement today on the successful first flight of the NASA Ingenuity Mars Helicopter.
"Today's flight of the NASA Ingenuity Mars Helicopter is a true milestone in aviation and aeronautics history. The first flight of an aircraft on another planet is the opening chapter of a story that will be written by countless people around the world, but all those people will have been inspired and motivated by today's achievement.
"Mimi Aung and the entire NASA JPL team's names can deservedly be put alongside the Wright Brothers and their historic Kitty Hawk moment in the annals of aviation history — but far from North Carolina — this time observing the dusty basin of the Jezero Crater on another planet nearly 160 million miles away. It's a moment that has changed perceptions about the possibilities and tools available to explore other planets, and it will pave the way for making the exploration of our universe more accessible to all mankind.
"It is a source of pride for Space Foundation and the world to see the diversity of talent, minds and skills that have collaborated to demonstrate that there is no barrier we cannot overcome when we work together to devise solutions. These scientists have the utmost admiration of Space Foundation and its members, partners and friends upon the accomplishment of this historic achievement." 
About Space Foundation
Space Foundation is a nonprofit advocate organization founded in 1983, offering a gateway to education, information and collaboration for space exploration and space-inspired industries that define the global space ecosystem. Driven by a partnership model, Space Foundation operates three divisions that unite the entire spectrum of stakeholders — business, government, education and local communities — through corporate membership, sponsorship, fundraising and grants. Center for Innovation and Education is a lifelong learning platform, offering workforce development and economic opportunity for students, teachers, entrepreneurs and professionals. Symposium 365 is the premier source for media and events, offering authoritative news and information and venues for networking and conducting business, including the world-renowned Space Symposium and The Space Report. Global Alliance facilitates collaboration around the world for open dialogues and joint programs. Visit Space Foundation at www.SpaceFoundation.org, and follow us on Facebook, Twitter, Instagram, LinkedIn and YouTube.
All brand names and product names are trademarks or registered trademarks of their respective companies.
Tags: Space Foundation, NASA JPL, NASA Ingenuity Mars Helicopter, Mimi Aung, space technology, space innovation, space advocate, space exploration, space ecosystem, space economy
Media Contacts:
Rich Cooper
Vice President, Strategic Communications & Outreach
Space Foundation
(202) 596-0714
[email protected]
Dottie O'Rourke
TECHMarket Communications
(650) 344-1620
[email protected]
---
Posted in Space Foundation Press Releases