Space Foundation Press Releases
---
Space Foundation and ICESCO Sign Joint Public Partnership Agreement Events Tie Benefits of Space Science and Technology to Economic Development Worldwide
Written by: Space Foundation Editorial Team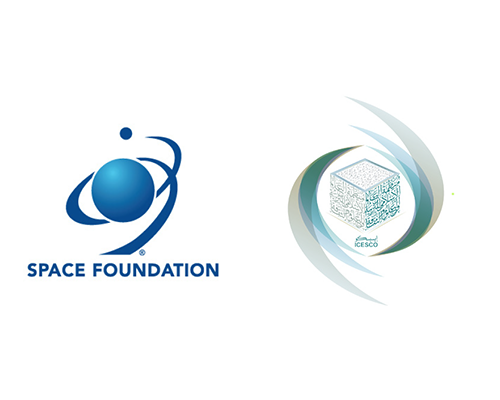 COLORADO SPRINGS, Colo. — Aug. 25, 2021 — Space Foundation, a nonprofit advocate organization founded in 1983 for the global space ecosystem, today signed an agreement at the 36th Space Symposium, expanding the organization's emerging partnership with ICESCO (Islamic World Educational, Scientific, and Cultural Organization). Space Foundation CEO Tom Zelibor (RADM, U.S. Navy, ret.) welcomed His Excellency Director General Dr. Salim M. AlMalik of ICESCO to the event for a virtual signing ceremony. ICESCO represents 54 member countries around the globe, and the partnership extension will include additional events and programming scheduled to occur in Nov. 2021 and beyond.
Both leaders delivered remarks prior to the signing, along with additional comments from Kevin O'Connell, CEO of Space Economy Rising; Simonetta di Pippo, Director of the United Nations Office of Outer Space Affairs; and Shelli Brunswick, COO of Space Foundation.
In February of this year, Space Foundation partnered with ICESCO for a successful event in Rabat, Morocco. "The Celebration of the International Day of Women and Girls in Science" was held under the patronage of His Majesty King Mohammed VI of Morocco and featured Nobel Prize winners Dr. Frances H. Arnold and Dr. Donna Strickland, among other distinguished speakers.
In June of 2021, the organizations partnered again in Rabat for "The First International Symposium on Space Science: Importance, Challenges, and Emerging Opportunities in the Space Industry and Islamic World," to build awareness about the benefits of space science and technology to economic development across industry, government and academia.
Commenting on the expanding relationship, Zelibor said, "Space Foundation is humbled and honored to be a partner to ICESCO in finding, building and empowering the next generation of teams that will take us to places we cannot begin to imagine. Today, we start opening doors of opportunity where countries, commerce, education and culture can work together to lift people up and empower them to think and act boldly to change lives for the better on Earth and beyond."
Brunswick, executive leader of Space Foundation's Center for Innovation and Education also remarked on the partnership, sharing that, "Space is a source of inspiration for everyone around the globe, and I am confident that the agreement signed today is another step in a growing relationship that joins different cultures, experiences and aspirations together to build a future where everyone can find their place in space."
His Excellency Director General, Dr. Salim M. AlMalik of ICESCO, assured the keenness of his organization to facilitate connections, advocacy and collaboration among space science stakeholders and ICESCO's member states. Stressing the importance of applications of space knowledge in developing countries, he said, "Space technology research, development and its wide range of applications are critically needed to answer the major issues affecting humanity. A large space ecosystem workforce will grow the world's economy and fight major scientific, environmental and health challenges. Let's work together to make sure that people around the world receive the best use of space technology and save the planet."
The next joint Space Foundation/ICESCO event will be the "Global Space Science Forum" under the theme "Exploring the Space Science Future – Together," where former heads of state and world-renowned leaders involved in the development of the space ecosystem, as well as heads of several space agencies from around the world are expected to speak. It will be held Nov. 1-3, 2021, in Rabat, Morocco to further explore opportunities available in the space ecosystem. Additional goals of the event are to expedite the efforts of ICESCO's 54 member states to advance space programs and the use of space technology in education, science and innovation in developing countries, as well as brainstorming on how to leverage the benefits of current space technology. The Forum will be attended by thousands of participants, including a large number of researchers, scientists and professionals from around the ICESCO member states and beyond.
About the Islamic World Educational, Scientific and Cultural Organization (ICESCO)
The Islamic World Educational, Scientific and Cultural Organization (ICESCO) is one of the largest institutions in the Islamic world, with 54 member states, in which it conducts regular activities to build their capacities in the fields of education, science, technology, culture, communications and other related areas. The organization's new vision adopts an open-door policy with international organizations, institutions and entities to advance foresight, innovative thinking, and the roles of youth and women in the ICESCO's member states, and around the world.
About Center for Innovation and Education
Center for Innovation and Education, a division of Space Foundation, is a lifelong learning platform for the global space ecosystem that offers workforce development and economic opportunity for students, teachers, entrepreneurs and professionals via digital programming or live at Space Foundation Discovery Center in Colorado Springs, Colorado. Through its Workforce Development Roadmap, sponsored programs, and global collaborations, Center for Innovation and Education enhances the outlook and opportunities for new jobs, careers and new business ventures through its Space Commerce Entrepreneurship Programs, New Generation Young Professional Program, Professional Teacher Training, and Space-Inspired Curriculum. To learn more about Center for Innovation and Education, please visit,  www.spacefoundation.org/cie, and  visit www.discoverspace.org to learn more about Space Foundation Discovery Center.
About Space Foundation
Space Foundation is a nonprofit advocate organization founded in 1983, offering a gateway to information, education and collaboration for space exploration and space-inspired industries that define the global space ecosystem. Driven by a partnership model, Space Foundation operates three divisions that unite the entire spectrum of stakeholders — business, government, education and local communities — through corporate membership, sponsorship, fundraising and grants. Symposium 365 is the premier source for media and events, including the world-renowned Space Symposium and The Space Report. Center for Innovation and Education is a lifelong learning platform. Global Alliance facilitates collaboration around the world. Visit Space Foundation at www.SpaceFoundation.org, and follow us on Facebook, Twitter, Instagram, LinkedIn and YouTube.
###
All brand names and product names are trademarks or registered trademarks of their respective companies.
Tags: Space Foundation, ICESCO, Islamic World Educational Scientific and Cultural Organization, Dr. Salim M. AlMalik, Center for Information and Education, space education, space technology, space innovation, space ecosystem, space advocate
Media Contacts:
Rich Cooper
Vice President, Strategic Communications & Outreach
Space Foundation
(202) 596-0714
[email protected]
Dottie O'Rourke
TECHMarket Communications
(650) 344-1260
[email protected]
Asmae Habchaoui
Media Specialist
ICESCO
(212) 696-359-715
[email protected]
---
Posted in Space Foundation Press Releases