Space Foundation Press Releases
---
Space Foundation Releases 'The Space Report 2021 Q3' Revealing $9.8B in Space Sector Equity Financing Activity
Written by: Space Foundation Editorial Team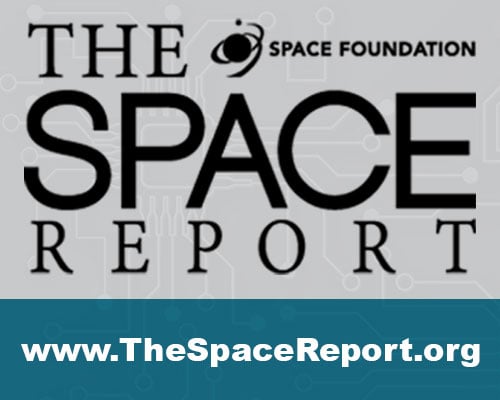 Maximum investment transaction value has grown more than 300% since 2018
China and U.S. spacecraft values are outpacing other spacefaring nations
Commercial payload manufacturing has increased 134% since 2017
COLORADO SPRINGS, Colo. — Oct. 26, 2021 — Space Foundation, a nonprofit advocate organization founded in 1983 for the global space ecosystem, today released "The Space Report 2021 Q3," which examines equity financing activities in the space sector, commercial space revenue, and spacecraft value by market and manufacturing country.
Reflecting on the newly released data, Space Foundation CEO Tom Zelibor said, "Near-record Q3 investment activity underscores the bright future ahead for the space ecosystem. Bolstered by recent successes by commercial space companies, confidence is high that today's space exploration and utilization initiatives will be realized more expeditiously than we have seen in years past."
Equity financing activity in the space sector posted another near-record high in Q3 2021, following the prior quarter's all-time high. Third-quarter equity financings nearly doubled to 55 from 28 in the same period of last year (Q3 2020), according to Quilty Analytics analysis. In dollar value of those disclosed transactions, Q3 2021 recorded $9.8 billion in investment activity, up from $6.6 billion in Q3 2020 — a 48% increase.
Since 2018, the higher volume has been matched by greater investment per transaction, resulting in a 200% increase in the average value of the 10 largest transactions examined in the last four years. The maximum transaction value has jumped more than 300%.
The Q3 edition of "The Space Report" also investigates spacecraft value by market and manufacturing country. From 2017 to 2020 (the latest year for which data is available), manufacturing revenue associated with commercial payloads recorded a 134% increase. Human spaceflight logged a 14% increase over the same time, and revenue for military spacecraft grew 10%.
Those revenue gains, however, weren't spread equally across the top countries in space. Europe and Japan saw manufacturing value fall since 2018, while Russia and India saw declines of more than 50% from 2019. China's spacecraft value rose 88%, followed by the United States with 48% growth.
In addition to analysis of Q3 investment and commercial space revenue, "The Space Report 2021 Q3" explores six new space telescopes scheduled for launch this decade. The James Webb Space Telescope is expected to be the first into service, but it will be joined by others that are ushering in a new era of studying the universe.
About The Space Report
The Space Report is the authoritative report on the global space ecosystem, covering space exploration and space-inspired industries on Earth. Published by Space Foundation since 2006 and operating under Symposium 365 division, The Space Report is available on a subscription basis, providing policy analysts, congressional staff, investors, media, and space industry newcomers with research and insight on trends and opportunities with informative articles and quarterly reports. Highlighting each report is an overview of the latest data available on the space economy, space infrastructure, and other key industry indicators as well as analysis of commercial, government and educational events impacting business, workforce and our daily lives. For more information, please visit www.thespacereport.org.
About Symposium 365
Symposium 365, a division of Space Foundation, is the premier source for media and events in the global space ecosystem, offering authoritative news and information and venues for networking and conducting business via the world-renowned Space Symposium, Symposium 365 Digital Platform and The Space Report. Serving commercial, government and education sectors, Symposium 365 produces signature programming — live and online — for professionals, entrepreneurs, educators and students to learn, connect and conduct business 365 days a year. To learn more about Symposium 365, please visit www.spacesymposium 365.org.
About Space Foundation
Space Foundation is a nonprofit advocate organization founded in 1983, offering a gateway to information, education and collaboration for space exploration and space-inspired industries that define the global space ecosystem. Driven by a partnership model, Space Foundation operates three divisions that unite the entire spectrum of stakeholders — business, government, education and local communities — through corporate membership, sponsorship, fundraising and grants.Symposium 365 is the premier source for media and events, including the world-renowned Space Symposium and The Space Report. Center for Innovation and Education is a lifelong learning platform. Global Alliance facilitates collaboration around the world. Visit Space Foundation at www.SpaceFoundation.org, and follow us on Facebook, Twitter, Instagram, LinkedIn and YouTube.
###
All brand names and product names are trademarks or registered trademarks of their respective companies.
Tags: Space Foundation, The Space Report, Symposium 365, space economy, space technology, space innovation, space ecosystem, space advocate,space commerce, space exploration, space employment, space investment, space spending, commercial space revenue, equity financing, commercial payloads
Media Contacts:
Rich Cooper
Vice President, Strategic Communications & Outreach
Space Foundation
(202) 596-0714
[email protected]
Dottie O'Rourke
TECHMarket Communications
(650) 344-1260
[email protected]
---
Posted in Space Foundation Press Releases