Public Policy and Government Affairs
---
Biweekly Washington, D.C., Update for the Week Ending November 6, 2021
Written by: Elizabeth Anderson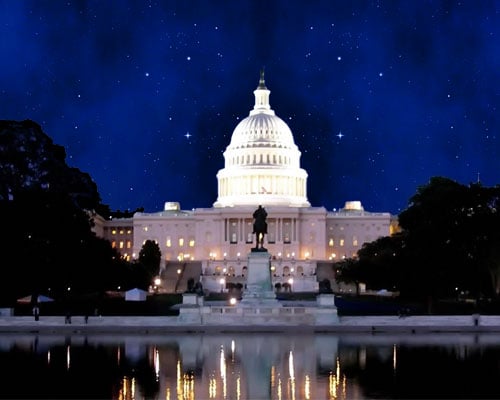 This week in Washington, D.C., the House allocations of the Build Back Better Act sharply reduced allocations to NASA infrastructure repairs and climate change projects, a federal judge ruled against Blue Origin's protest of the NASA Human Landing System contract, Space Force introduced a new commercial technology funding program called Orbital Prime, and the Decadal Survey on Astronomy and Astrophysics was released.
Space Classified Series
On October 27th, Space Foundation partnered with Aerospace Corporation to host a virtual Space Classified Series focused on the threats, vulnerabilities, and assurances faced in the Space Cyber world. Ryan Speelman from Aerospace Corporation moderated the discussions surrounding Solarium Commission, priority intelligence requirements and intelligence gaps, and other approaches to emerging cyber challenges. The keynote speakers included the Associate Administrator of Internal Affairs at NTIA; Jaisha Wray, Deputy Director of the NSA's Cybersecurity Directorate; David P. Luber, and Representative Chris Stewart of HPSCI. To be included in future events, please reach out to Megan Wenrich, Manager of DC Operations, at [email protected]
Start Here For Space Season 2
Start Here For Space is a 101-level introductory series to space policy. This series features subject matter experts who provide insight into space policy issues and why they should matter to policymakers. These episodes are all free and publicly available on the Symposium 365 platform. Two episodes of Season 2 have been released thus far:
(1) Dr. Bhavya Lal, Associate Administrator of the Office of Technology, Policy, and Strategy and Acting Chief Technologist at NASA, on nuclear propulsion. (link)
(2) Dr. Marcus Holzinger, Associate Professor at the University of Colorado-Boulder, on space domain awareness. (link)
US Space Policy Updates
International Space Updates
Space Industry Updates
Space Leader Spotlight – Shelli Brunswick
Shelli Brunswick is the Chief Operating Officer (COO) and the Executive Global Space Leader at Space Foundation. Brunswick regularly collaborates with commercial, government, and educational sectors to advocate for accessible space education, space technology innovation, and space entrepreneurship. Her dedication and influence as a role model for women in space was recognized in her nomination for four WomenTech Global Awards 2021.
Among key roles that she holds at other organizations, Brunswick is the Chair of the Women in Aerospace Foundation, a Space4Women Network Mentor at the UNOOSA, and a World Business Angels Investment Forum (WBAF) Senator for the U.S., chairs Space Entrepreneurship Tod'Aers, and also recently became a Global Chair for Space Technology with the Group of 100 Global Women Leaders. Brunswick spent three weeks traveling in the month of October, meeting with space leaders in the Middle East and North Africa region and attended the International Astronautical Conference in Dubai. Space Foundation is proud to be represented by a leader as compelling, inspiring, and committed as Shelli Brunswick.
Reading Corner
Breaking Defense | UN Committee Votes 'Yes' on UK-US-Backed Space Rules Group
On Monday November 1st, the UN First Committee approved the creation of the Open-Ended Working Group (OEWG) to establish rules for military activities in space. This is an indicator of growing political concern regarding the military space domain and a widespread motivation to take action. The OEWG will begin with biannual meetings where general consensus will be met and groundwork will likely be laid for a new treaty addressing the growing risks of military conflict in space.
Space Trivia
On November 3, 1973, NASA launched Mariner 10 using an Atlas-Centaur rocket. Mariner 10 became the first spacecraft to explore Mercury, making the close-range pictures it captured of the planet a major accomplishment. This was the first spacecraft to use the gravitational pull of one planet–Venus, to reach another planet–Mercury (NASA).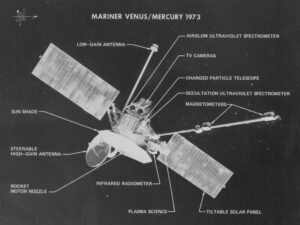 ---
Posted in Public Policy and Government Affairs