Public Policy and Government Affairs
---
Biweekly Washington, D.C., Update for the Week Ending November 19, 2021
Written by: Elizabeth Anderson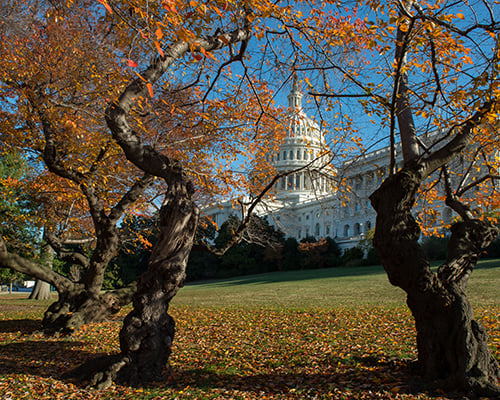 This week in Washington, D.C., President Biden signed the infrastructure bill into law, the Artemis Program faced major schedule updates and discrepancies between NASA's A-Suite and Office of the Inspector General, Vice President Harris and French President Macron announced a joint space and cybersecurity partnership, and the Russian anti-satellite missile test raised concerns about space debris and national security.
November Stakeholder Call
Space Foundation's monthly Stakeholder Call will take place on November 30th at 1 PM. This month's call will feature Wayne Monteith, Associate Administrator at the Office of Commercial Space Transportation at the Federal Aviation Administration. If you are interested in attending, please RSVP to Elizabeth Anderson at [email protected].
 US Space Policy Updates
International Space Policy Updates
Space Industry Updates
Space Leader Spotlight
Kamala Harris is the 49th and current Vice President of the United States, making her the highest-ranking female official in American history. Harris is the first female, African American, and Asian American Vice President. During her term as Senator of California, Harris introduced the STEM for Girls and Minorities Act legislation to provide funding to support more STEM education opportunities for female, colored, queer, and disabled students in school districts across the country. Today, Harris continues to encourage younger generations to reach for the stars even if they seem unattainable.
This past spring, Harris became chairperson of the National Space Council. The Administration's goals for the National Space Council include the sustainable development of spaceflight, increasing diversity in the workforce, achieving peaceful exploration objectives with our allies, and promoting responsible behavior in space. In a recent meeting with French President Emmanuel Macron, Harris announced joint initiatives to establish greater space and cyber security cooperation between the U.S. and France.The Vice President will lead her first NSpC meeting next month, where she plans to prioritize climate change, STEM education, and the emerging space economy.
Reading Corner
Breaking Defense | Russia's Failed Anti-Satellite Weapons Test Creates Dangerous Cloud of Space Debris
On November 15th, the U.S. government confirmed that the Russian test of a direct ascent anti-satellite weapon has produced a cloud of about 1,500 pieces of space debris. The suspected ground-launched missile has put the International Space Station and other global systems in orbit at risk. This event has prompted new conversations regarding the need for international space rules and norms among U.S. government and military officials.
Space Trivia
The Leonid meteor shower peaked this week from Tuesday, November 16 to Wednesday, November 17, producing nearly 15 visible meteors per hour. The shower will remain active all month long. (Space.com)
---
Posted in Public Policy and Government Affairs