Space Foundation Press Releases
---
High Honors Awarded at 37th Space Symposium Opening Ceremonies
Written by: Space Foundation Editorial Team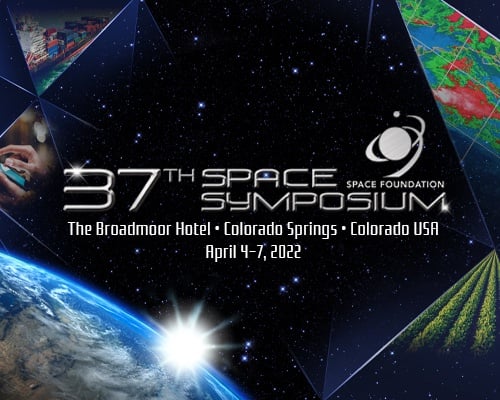 Awardees Recognized for Excellence in Education, Space Achievement, Public Outreach, Space Exploration, Lifetime Space Achievement and Art Achievement Award
COLORADO SPRINGS, Colo. — April 4, 2022 — Space Foundation, a nonprofit advocate organization founded in 1983, today announced that honorees have accepted awards at 37th Space Symposium opening ceremonies for their distinguished achievements in the global space ecosystem.
2022 Athena Education Award: L3 Harris
2022 Space Achievement Award: International Astronautical Federation
2022 Douglas S. Morrow Public Outreach Award: Virgin Galactic, Blue Origin, SpaceX
2022 John L. "Jack" Swigert Jr. Award for Space Exploration: NASA and University of Arizona OSIRIS-REx Team
2022 General James E. Hill Lifetime Space Achievement Award: Joanne Maguire
Access photos from all awards presented: https://www.flickr.com/photos/space_foundation/opening_ceremonies
Art Achievement Award
Space Foundation also today announced the winner of its 12th Annual International Student Art Contest, cosponsored by Noosphere Venture Partners LP. The winning entries will be on display at Space Foundation's 37th Space Symposium, to be held April 4-7, 2022, at The Broadmoor in Colorado Springs. Following Space Symposium, the winning art will be displayed at Space Foundation Discovery Center and headquarters.
Space Foundation invited public, private and home-schooled children ages 3-18 from around the world to submit original artwork depicting this year's theme, "Living, Working and Playing on the Moon." The 2022 contest generated 6,000 entries from 34 U.S. states and 82 countries, resulting in 25 winners with one entry chosen for the Space Foundation Art Achievement Award.
"Space represents the future of mankind and is an eternal source of inspiration and curiosity," said Max Polyakov, founder and managing partner of Noosphere Ventures. "It is a privilege to continue to help cultivate a new generation's interest in space exploration and empower them to paint the picture of a potential existence on the Moon. On behalf of Noosphere, congratulations to all the winners, and I am particularly excited to celebrate the success of Victoria from Ukraine, the Art Achievement winner."
Noosphere has supported the Space Foundation International Student Art Contest for four years. An international asset management firm focused on investing in space companies, Noosphere's commitment and support of the Space Foundation has helped young people and students around the world artistically explore and express their interest in space.
About the Contest
Students were invited to enter artwork in the following media formats: drawing, painting, mixed media, and digital. The contest featured eight age categories, with first, second and third place honors for each of the age categories, plus one Space Foundation Art Achievement Award. The winners will receive an astronaut autograph, a certificate, a ribbon and an art kit.
The 2022 winners are listed by their first name only in consideration of the children's privacy.
Ages 3-4        
1st Place: Mohan, China
2nd Place: Yahan, China
3rd Place: Katya, Greece
Ages 5-6        
1st Place: Jingyi, China
2nd Place: Yaxuan, China
3rd Place: Lucas, USA
Ages 7-8        
1st Place: Damir, Kazakhstan
2nd Place: Chenxi, China
3rd Place: Yi Jane, Malaysia
Ages 9-10      
1st Place: Violetta, Belarus
2nd Place: Chalicha, Thailand
3rd Place: Ahil, India
Ages 11-12    
1st Place: Emma, USA
2nd Place: Arujan, Uzbekistan
3rd Place: Petya, Bulgaria
Ages 13-14    
1st Place: Alecsia, Romania
2nd Place: Andrea, Indonesia
3rd Place: Kayli, USA
Ages 15-16    
1st Place: Ava, USA
2nd Place: Laura, USA
3rd Place: William, USA
Ages 17-18    
1st Place: James Paul, Philippines
2nd Place: Darya, Russia
3rd Place: Ethan, Singapore
Art Achievement Award   
Victoria, Ukraine, age 15
Winning artwork submitted for this year's contest can be seen on the International Student Art Contest website gallery at https://art.spacefoundation.org/winners-gallery/2022-winners-gallery/, and all submissions can be viewed at http://art.spacefoundation.org. The winning artwork will also be available for viewing on the Space Foundation's LinkedIn, Facebook, Instagram and Twitter.
About Noosphere Venture Partners LP
Noosphere Venture Partners LP is an international asset management firm with the strategic vision to transform high-potential companies into definitive market leaders. Founded by Dr. Max Polyakov, the company's mission is to change the landscape of the digital economy, and Noosphere invests in projects around the world that primarily are focused on space, consumer internet, advertising, and marketing technologies. About Noosphere Venture Partners: https://noosphereventures.com/ 
About Space Symposium
Space Symposium is the premier assembly for the global space ecosystem, hosted by Space Foundation since 1984. The live event is widely attended by commercial and government leaders, young professionals, entrepreneurs, and educators in Colorado Springs, Colorado. Last year's 36th Space Symposium enabled its thousands of global attendees to seamlessly engage and conduct business both in-person and virtually via Symposium 365 Digital Platform. For a complete listing of Space Symposium co-sponsors, please click here. For more information, please visit www.spacesymposium.org.
About Space Foundation
Space Foundation is a nonprofit advocate organization founded in 1983, offering a gateway to information, education and collaboration for space exploration and space-to-Earth industries that define the global space ecosystem. Driven by a partnership model, Space Foundation operates three divisions that unite the entire spectrum of stakeholders — business, government, education and local communities — through support from corporate membership, sponsorship, fundraising and grants. Symposium 365 is the premier source for media and events, including Space Symposium and The Space Report; Center for Innovation and Education is a lifelong learning provider; and Global Alliance facilitates collaboration around the world. Visit Space Foundation at www.SpaceFoundation.org, and follow us on LinkedIn, Facebook, Instagram, Twitter and YouTube.
###
All brand names and product names are trademarks or registered trademarks of their respective companies.
Tags: Space Foundation, Space Symposium, L3 Harris, International Astronautical Federation, Virgin Galactic, Blue Origin, SpaceX, NASA, University of Arizona OSIRIS-REx Team, Joanne Maguire, space award, Center for Innovation and Education, International Student Art Contest, Space Foundation Discovery Center, lifelong learning, space innovation, space exploration, STEAM education, student artist, Art Achievement Award, Noosphere Venture Partners LP
Media Contacts:
Rich Cooper
Vice President, Strategic Communications & Outreach
Space Foundation
(202) 596-0714
[email protected]
Dottie O'Rourke
TECHMarket Communications
(650) 344-1260
[email protected]
---
Posted in Space Foundation Press Releases