Space Foundation News
---
Space Foundation Names Virgin Galactic, Blue Origin, SpaceX Recipients of 2022 Douglas S. Morrow Public Outreach Award
Written by: Space Foundation Editorial Team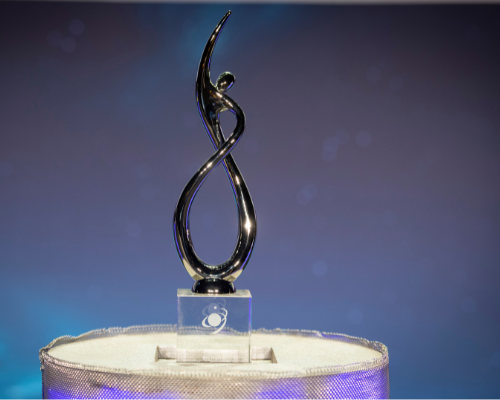 COLORADO SPRINGS, Colo. — Feb. 1, 2022 — Space Foundation, a nonprofit advocate organization founded in 1983 for the global space ecosystem, today announced that it has selected Virgin Galactic, Blue Origin and SpaceX as the recipients of this year's Douglas S. Morrow Public Outreach Award.
Each year, Space Foundation presents the award in memory of the late Douglas S. Morrow, renowned Academy Award-winning writer and producer, space advocate, and former Space Foundation board member, to an individual or organization who has made significant contributions to the public awareness of space programs. The Douglas S. Morrow Public Outreach Award is presented annually at Space Symposium.
"The accomplishments of these three enterprises this past year advancing public understanding and engagement with space was as inspirational as it was historic," said Space Foundation CEO Tom Zelibor. "By opening spaceflight to the public, endless possibilities have been created by their remarkable impact and continued visionary work."
In recognition of the public awareness generated, the shared award recipients are being recognized for the following:
Virgin Galactic: The Unity 22 flight last July saw company founder Richard Branson become the first spaceflight company founder to travel on his own ship to space. It was no easy feat, as that flight was the fruition of years of hard work, problem-solving and passion. And with the potential for regular passenger spaceflights on the horizon as early as this year, Virgin Galactic has ignited the imaginations of everyday space enthusiasts around the globe with the promise that they too may one day be able to board a passenger flight to space.
Blue Origin: Last October, the world watched with fascination as the real actor behind the fictional character Captain Kirk — more than a half-century after playing the role of a starship captain — finally reached a true space frontier aboard New Shepard flight 18. That, along with Blue Origin's two other successful passenger flights last year, proved that once-impossible access to space could be provided by a privately owned company. Meanwhile, their Orbital Reef space station partnership struck late last year promises to transform low Earth orbit aspirations in the not-too-distant future.
SpaceX: The Inspiration4 mission last September demonstrated that for the first time ever, a crew entirely composed of civilians could successfully orbit the Earth in a commercially built spacecraft. Additionally, two other successful Crew Dragon flights to the International Space Station proved that public-private space partnerships can succeed seamlessly. By pushing beyond both real and imposed boundaries, SpaceX has revolutionized space technology, making space accessible to all with historic advances into both present and future space exploration.
The award will be presented April 4, 2022, during Space Foundation's 37th Space Symposium opening ceremonies to be held at The Broadmoor in Colorado Springs.
About Space Symposium
Space Symposium is the premier assembly for the global space ecosystem, hosted by Space Foundation since 1984. The live event is widely attended by commercial and government leaders, young professionals, entrepreneurs, and educators in Colorado Springs, Colorado. Last year's 36th Space Symposium enabled its thousands of global attendees to seamlessly engage and conduct business both in-person and virtually via Symposium 365 Digital Platform. For more information, please visit www.spacesymposium.org.
About Space Foundation
Space Foundation is a nonprofit advocate organization founded in 1983, offering a gateway to information, education and collaboration for space exploration and space-to-Earth industries that define the global space ecosystem. Driven by a partnership model, Space Foundation operates three divisions that unite the entire spectrum of stakeholders — business, government, education and local communities — through support from corporate membership, sponsorship, fundraising and grants. Symposium 365 is the premier source for media and events, including Space Symposium and The Space Report; Center for Innovation and Education is a lifelong learning provider; and Global Alliance facilitates collaboration around the world. Visit Space Foundation at www.SpaceFoundation.org, and follow on LinkedIn, Facebook, Instagram, Twitter and YouTube.
###
All brand names and product names are trademarks or registered trademarks of their respective companies.
Tags: Space Foundation, Space Symposium, Douglas S. Morrow Public Outreach Award, space industry event, space technology, space innovation, orbital technology, space ecosystem, commercial space, space exploration, passenger spaceflight, Virgin Galactic, Blue Origin, SpaceX
Media Contacts:
Rich Cooper
Vice President, Strategic Communications & Outreach
Space Foundation
(202) 596-0714
[email protected]
Dottie O'Rourke
TECHMarket Communications
(650) 344-1260
[email protected]
---
Posted in Space Foundation News