Space Foundation News
---
Joanne Maguire Selected as Recipient of the 2022 General James E. Hill Lifetime Space Achievement Award
Written by: Space Foundation Editorial Team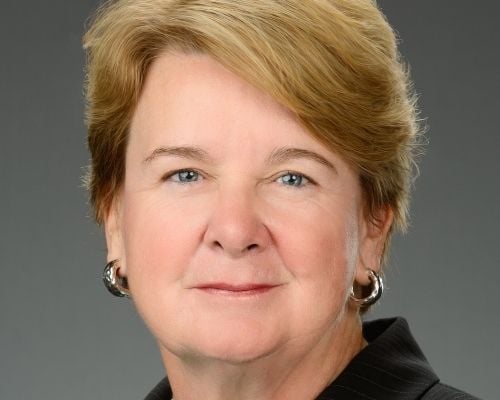 COLORADO SPRINGS, Colo. — Jan. 12, 2022 — Space Foundation, a nonprofit advocate organization founded in 1983 for the global space ecosystem, today announced that American engineer and former executive Joanne Maguire has been selected as the 2022 recipient of its highest honor, the General James E. Hill Lifetime Space Achievement Award.
Maguire's impactful career in the space ecosystem spanned many decades, and she was highly successful in leadership and senior management roles entirely focused on space at both TRW (acquired by Northrop Grumman) and Lockheed Martin. Joanne retired in May 2013 from Lockheed Martin Corporation where she served as executive vice president, Lockheed Martin Space (LMS) and first female corporate officer.
In this role, Maguire provided an extensive variety of technologically advanced systems to commercial and government customer bases, providing key products in the arenas of national security, civil space, and commercial space, including projects on human space flight systems; satellites for weather, remote sensing, navigation, and communications; strategic and missile defense systems; space observatories; and interplanetary spacecraft.
While at LMS, Joanne led multiple space exploration efforts that included the development and launch of JUNO, a Jupiter-bound exploration vehicle; the missions of Gravity Recovery and Interior Laboratory (GRAIL); and Phoenix Lander, a Mars exploration vehicle. Under Maguire's leadership, LMS also began the design and development of the Orion Multi-Purpose Crew Vehicle, NASA's next-generation human spacecraft.
Prior to Lockheed Martin, she spent 28 years at TRW's Space and Electronics sector, (now part of Northrop Grumman) assuming progressively responsible leadership roles in engineering and technology, programs, manufacturing and business development, culminating in her appointment as deputy to the sector CEO.
Maguire, an advocate for inclusion in the space ecosystem, increased the number of women in leadership and executive roles while at LMS. She was an executive sponsor for the corporate-wide Women's Leadership Forum and a key leader of Lockheed's LGBTQ Leadership Forum.
Recognized as a trailblazing woman executive in space, Maguire is the first female recipient of the prestigious International von Kármán Wings Award from California Institute of Technology, and, in 2009, she received the Society of Women Engineers' Upward Mobility Award for pioneering work in aerospace engineering and diversity management. Joanne was ranked numerous times in Fortune magazine's 50 Most Powerful Women in Business and was inducted into the Colorado Women's Hall of Fame in 2014. In 2017, UCLA named her Engineering Alumna of the Year. Her professional accolades include selection as a fellow of the American Institute of Aeronautics and Astronautics (AIAA) and election to the National Academy of Engineering.
Maguire currently serves as independent director on the boards of CommScope Holding Company, Visteon Corporation, and TetraTech. Active in her support of nonprofits, she is a board member for Draper Laboratory (an independent nonprofit research and development organization) and serves on the Dean's Executive Board at UCLA's Samueli School of Engineering.
Commenting on Maguire's selection for the award, Space Foundation CEO Tom Zelibor said, "All of us at Space Foundation are deeply humbled and honored to present Ms. Maguire with the prestigious Hill Award. The enormous impact of her many works — technically, operationally and programmatically, here on Earth and beyond — have changed our world and universe for the better. From enhancements to weather satellites that have saved countless lives and property globally to pioneering new missions and discoveries on Mars and around Jupiter, her career and leadership are a tremendous inspiration."
Named in honor of Space Foundation's late, longtime chairman, Gen. James E. Hill, USAF (Ret.), the award recognizes outstanding individuals who have distinguished themselves through lifetime contributions of 20 years or more to the welfare or betterment of humankind through the exploration, development and use of space, or the use of space technology, information, themes or resources in academic, cultural, industrial or other pursuits of broad benefit to humanity.
The award will be presented at the opening ceremonies of Space Foundation's 37th Space Symposium, to be held April 4-7, 2022, at The Broadmoor in Colorado Springs.
About Space Symposium
Space Symposium is the premier assembly for the global space ecosystem, hosted by Space Foundation since 1984. The live event is widely attended by commercial and government leaders, young professionals, entrepreneurs, and educators in Colorado Springs, Colorado. Last year's 36th Space Symposium enabled its thousands of global attendees to seamlessly engage and conduct business both in-person and virtually via Symposium 365 Digital Platform. For more information, please visit www.space symposium.org.
About Space Foundation
Space Foundation is a nonprofit advocate organization founded in 1983, offering a gateway to information, education and collaboration for space exploration and space-inspired industries that define the global space ecosystem. Driven by a partnership model, Space Foundation operates three divisions that unite the entire spectrum of stakeholders — business, government, education and local communities — through corporate membership, sponsorship, fundraising and grants. Symposium 365 is the premier source for media and events, offering authoritative news and information and venues for networking and conducting business, including the world-renowned Space Symposium and The Space Report. Center for Innovation and Education is a lifelong learning platform, offering workforce development and economic opportunity for students, teachers, entrepreneurs and professionals. Global Alliance facilitates collaboration around the world for open dialogues and joint programs. Visit Space Foundation at www.SpaceFoundation.org, and follow us on Facebook, Twitter, Instagram, LinkedIn and YouTube.
###
All brand names and product names are trademarks or registered trademarks of their respective companies.
Tags: Space Foundation, General James E. Hill Lifetime Space Achievement Award, Joanne Maguire, 37th Space Symposium, space economy, space technology, space innovation, space ecosystem, space advocate, space commerce, space exploration, space-inspired industries
Media Contacts:
Rich Cooper
Vice President, Strategic Communications & Outreach
Space Foundation
(202) 596-0714
[email protected]
Dottie O'Rourke
TECHMarket Communications
(650) 344-1260
[email protected]
---
Posted in Space Foundation News