Public Policy and Government Affairs
---
Biweekly Washington, D.C. Updates for the Week Ending August 19, 2022
Written by: Elizabeth Anderson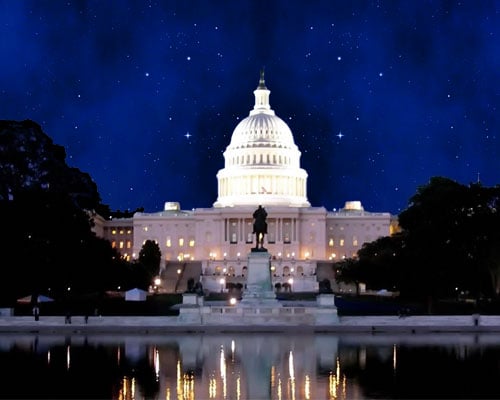 This week in Washington: The House and Senate are in summer recess, though the House came back in for a quick vote on CHIPS. President Biden signed the CHIPS Act and the Inflation Reduction Act into law earlier this week. Vice President Harris announced the next National Space Council meeting in September ​with a focus on commercial space regulation.
United States Space Policy Updates
International Space Policy Updates
Space Industry Updates
Space Foundation Events
Faga Forum
The Faga Forum on Space Intelligence brings together senior leaders from  agencies  including the Office of the Secretary of Defense, National Reconnaissance Office, United States Air Force and Space Force, National Security Council, Defense Intelligence Agency, House Permanent Select Committee on Intelligence, Office of the Director of National Intelligence, the National Geospatial Intelligence Agency together with industry executives for robust discussions on a number of issues confronting the space and intelligence community.
The FAGA Forum is a unique opportunity for government and industry decision makers versed in national security, space, and intelligence issues to discuss current challenges, opportunities and solutions. The Forum will be conducted on October 27th at the TS/SCI level (US only) and will feature keynote speeches, panel discussions, and networking opportunities.
Start Here for Space
In our third episode of a special season of Start Here for Space, Jill Smyth, Space Counselor for the Canadian Space Agency at the Embassy of Canada, shares insight into CSA operations, the agency's presence in DC, and international cooperation between CSA and the United States. Join us here for the third episode of the season!
Space Leader Spotlight
Robyn Gatens
This week's Space Leader Profile goes to Ms. Robyn Gatens, Director of the International Space Station at NASA. In her current position, she is responsible for leading strategy, policy, integration, and stakeholder engagement for the space station program and works closely with ISS teams across NASA centers. Ms. Gatens is also in charge of leading activities to secure an ongoing U.S. presence in low-Earth orbit (LEO) by enabling a successful, long-term private sector commercial LEO space economy. She assumed this role in March 2021, after spending time as the Deputy Director of the ISS for two years.
Ms. Gatens has spent the past thirty five years at NASA working in both the space station program and in development and management of the life support systems for human spaceflight missions. She began her career at Marshall Space Flight Center, holding multiple leadership positions including Manager for the Orion spacecraft crew support. Ms. Gatens transferred to NASA Headquarters in 2012 where she initially worked as Technology Demonstration Lead. For her three and a half decades of dedicated service, she has been awarded the NASA Outstanding Leadership and Exceptional Achievement Medals and is certainly a space leader at NASA and in the international space community.
Reading Corner
---
Posted in Public Policy and Government Affairs