International Affairs
---
Biweekly Washington, D.C. Updates for the Week Ending December 16, 2022
Written by: Elizabeth Anderson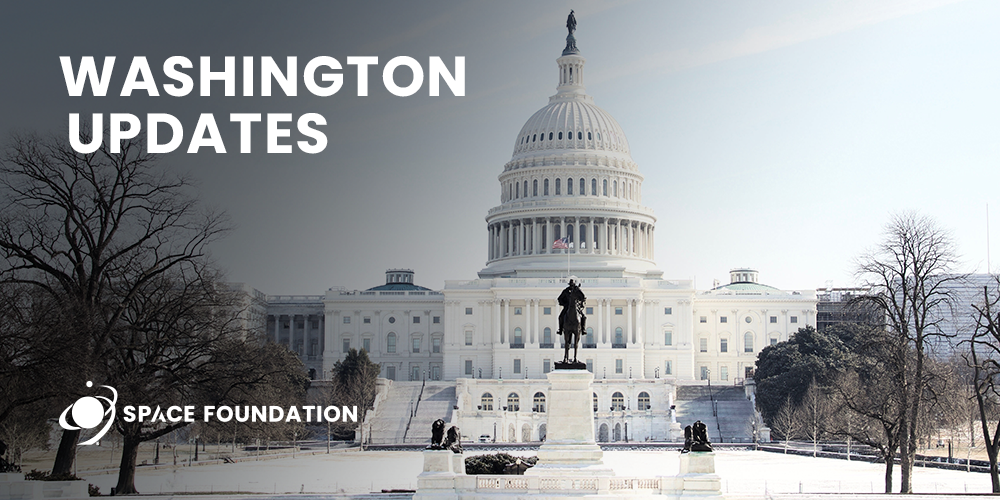 This Month in Washington
This Month in Washington, the NDAA passed through the House, an omnibus deal for FY23 looks to be close for Congress, Space Force celebrated its third birthday, and the Orion spacecraft splashed down in the Pacific Ocean, marking the end of a successful Artemis I mission for NASA.
Space Matters
Space Foundation's second season of "Space Matters" convenes well-known policy influencers for high-level conversations on emerging topics and trends within the global space economy. Join our expert panelists as they discuss and analyze the latest activities and decisions in the space:
– Artemis Launch
– 2022 Midterm Elections
– Upcoming government funding date for Continuing Resolution
Register for FREE to watch this timely and important program. It's open to all! Speakers include:
– The Honorable James Bridenstine, Senior Advisor, Acorn Growth Companies
– Ms. Carissa Christensen, CEO and Founder, BryceTech
– Ms. Patricia Cooper, President and Founder, Constellation Advisory, LLC
– The Honorable Robert Walker, CEO, Moon Walker Associates
United States Space Policy Updates
International Space Policy Updates
Space Industry Updates
Space Leader Spotlight
Dr. Frances Arnold
This week's chosen spotlight leader is a true idol to women in STEM and all those in the world of science and technology. Dr. Frances Arnold is an accomplished biochemical engineer selected by President Biden to serve as co-chair of the President's Council of Advisors on Science and Technology. Her career path in engineering started at Princeton University, where she graduated in 1979 with a degree in mechanical and aerospace engineering. Arnold later earned a master's degree in chemical engineering and completed further postdoctoral work in biophysical chemistry at UC Berkeley.
Arnold is widely recognized for being the first American woman to receive a Nobel Peace Prize in Chemistry after spearheading how to harness evolution and create proteins in 2018. Further, she is the first woman to win the Millennium Technology Prize (2016), and the Charles Stark Draper Prize for Engineering (2011). Impressively, Arnold holds more than 60 US patents and has co-founded three companies in sustainable fuels, chemistry, and agriculture. She is also currently the Linus Pauling Professor of Chemical Engineering, Bioengineering, and Biochemistry at the California Institute of Technology, which manages the Jet Propulsion Laboratory for NASA.
 Dr. Arnold's contribution to the space industry runs deep. Her work has led to the production of enzymes that function in airless environments, enabling the production of biofuels without reliance on expensive air-circulating equipment. She is focused on directing evolution to craft better biofuels, with the ultimate goal of using plant waste or dedicated energy crops to generate significantly fewer greenhouse gasses than gasoline. Overall, Dr. Frances Arnold is a powerhouse in the scientific community and an asset to the PCAST with her ample experience and successes.
Reading Corner
---
Posted in International Affairs