Report from Washington, D.C.
---
Air Force Director of Space Operations Addresses Space Foundation Correspondent's Group
Written by: developer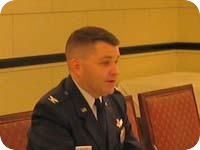 On July 8, the Space Foundation hosted a Space Foundation Correspondent's Group (SFCG) featuring Col. John Riordan, USAF, director of space operations at U.S. Air Force Headquarters. Riordan, who recently returned from a year long deployment in Southwest Asia, spoke about his experiences supporting space activities in conjunction with Operation Iraqi Freedom.  Riordan was the first senior space expert in theater to be deployed for a full year.  Riordan said the benefit of keeping the senior space expert for a year, rather than four month rotations, allows for greater continuity of Air Force and joint operations. 
Riordan highlighted the importance of having space personnel on the ground and fully integrated with other operational forces. This enables the integration of space effects into the planning process and furthers the education of the forces about the applicability of space to their operations. Riordan's new job in the Pentagon will enable him to better shape and integrate the lessons from his deployment into the planning, strategy, and training aspects of the Air Force space mission.
This SFCG event is part of a regular series of gatherings for Washington, D.C.- based space, defense, science and technology, business, and international journalists to engage in dialogue with leaders from across the space industry.
Pictured: Riordan
This article is part of Space Watch: August 2008 (Volume: 7, Issue: 8).
---
Posted in Report from Washington, D.C.