Report from Headquarters
---
Axiom Worldwide Reports Great Success at Strategic Space and Defense 2008
Written by: developer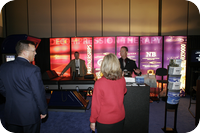 Axiom Worldwide, a Space Certification Program partner and Space Foundation corporate patron, designs and manufactures a range of healthcare products. Its flagship DRX9000 True Non-surgical Spinal Decompression System™ relieves Lower Back Pain (LBP) which affects more than 150,000 active duty soldiers in the U.S. alone every year.  Billions of dollars are spent annually on pharmaceuticals, physical therapy, and invasive procedures to deal with LBP. DRX9000 technology offers our aerospace and defense personnel a safe, non-surgical alternative.
At Axiom's booth, Strategic Space and Defense 2008 attendees learned about Axiom's Head Down Tilt with Spinal Decompression (HDT-SD) research program which converts the DRX9000 into a unique HDT-SD study device.  The study simulates the effects of microgravity on the human body and promises to yield better data in less time than the current methods, and ultimately, reduce costs. Data from the Axiom study will also prove valuable in efforts to overcome the negative effects of microgravity experienced on long-term space flights.
The significant health benefits of DRX9000 spinal decompression therapy were obvious to everyone visiting the Axiom exhibit. Interest was exceptionally strong as Axiom proposed to consign the equipment and offered installation and training at no cost. Throughout the conference, Axiom held meetings with a range of domestic and international agencies and commercial concerns.
For additional information, visit www.axiomworldwide.com.
This article is part of Space Watch: October 2008 (Volume: 7, Issue: 10).
---
Posted in Report from Headquarters