Space Foundation Press Releases
---
Kids Get Chance to Touch – and Taste – Life on the Moon
Written by: developer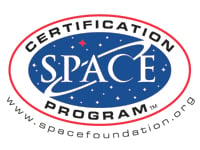 COLORADO SPRINGS, Colo. (Dec. 3, 2008) — The Space Foundation recently recognized three PLANET LLC commercial products  – Space Garden, JSC-1A Lunar Regolith Simulant, and JSC-Mars-1A Martian Regolith Simulant – as Certified Education Products.
The Space Certification program was created by the Space Foundation, in cooperation with NASA, to raise awareness and understanding about the significant and practical benefits of technologies originally developed for the space program which have been adapted into products and services that improve life on Earth. 
"The Space Foundation is pleased to add Space Garden, JSC-1A Lunar Regolith Simulant, and JSC-Mars-1A Martian Regolith Simulant as Certified Educational Products," said Kevin Cook, director of space technology awareness for the Space Foundation.  "We think these products will give kids hands-on experience with the exciting possibilities of space exploration."
Space Garden's unique growth chamber is a ground-based version of an actual vegetable growth system designed for the International Space Station. Space Garden is equipped with all the materials needed to conduct biological, agricultural, and life science investigations just like the astronauts.  The flight version flew with astronaut Barbara Morgan on Space Shuttle Endeavour's STS-118 mission, went to the International Space Station, and was part of NASA's 2007-2008 year-long Engineering Design Challenge.
JSC-1A Lunar Regolith Simulant and JSC-Mars-1A Martian Regolith Simulant help simulate the "soil" of the moon and Mars. NASA's return to the moon, Mars, and beyond creates an immediate need for materials science and technology research to enable safe human travel and work on future lunar exploration and long-duration missions. Part of the research will require the use of lunar regolith and Martian soil simulants for materials experiments, prototype testing, and dust mitigation of transportation equipment, advanced life support systems, and in-situ resource processing.
Planet LLC offers these products commercially to the education industry and is providing products to the Space Foundation for use in its educational programs.
For more information about Space Garden, JSC-1A Lunar Regolith Simulant, JSC-Mars-1A Martian Regolith Simulant, and other space products that improve life here on Earth, visit the Space Certification Program online at www.SpaceConnection.org.
About the Space Foundation
Founded in 1983 and celebrating its 25th anniversary this year, the Space Foundation is an international nonprofit organization advancing space-related endeavors to inspire, enable, and propel humanity.  A leader in space awareness activities, major industry events, and educational enterprises that bring space into the classroom, the Space Foundation is headquartered in Colorado Springs, Colo.  It conducts research and analysis and government affairs activities from its Washington, D.C., office and has field representatives in Houston, Texas, and Cape Canaveral, Fla.  The 25th National Space Symposium, the premier annual gathering of the global space community, will take place March 30 – April 2, 2009, at The Broadmoor Hotel in Colorado Springs.  Along with partnering organizations, the Space Foundation also conducts Space Business Forum: New York on June 4, 2009, in New York, N.Y., and Strategic Space and Defense 2009 from 6-8 October in Omaha, Neb. For more information, visit www.SpaceFoundation.org.
###
---
Posted in Space Foundation Press Releases