Spotlight
---
25th National Space Symposium Looks at The Next Space Age
Written by: developer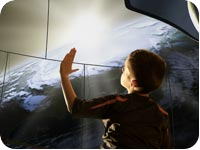 The Space Foundation's 25th National Space Symposium ushers in The Next Space Age with an agenda packed with past, present, and future space leaders. Scheduled for March 30 – April 2, at The Broadmoor Hotel in Colorado Springs, Colo., this premier U.S. space policy and program forum is a "must attend" opportunity for information and interaction on all sectors of space – civil, commercial, national security, entrepreneurship, finance, education, and workforce issues.
The Symposium starts with a bang – literally – the Opening Ceremony will include a specially commissioned performance of space-themed music by the Colorado Springs Philharmonic and the Colorado Springs Chorale, followed by a spectacular fireworks display against the backdrop of beautiful Cheyenne Mountain.
Topics
Highlights of the next three days include panels and presentations by industry, congressional, military, and government space leaders on topics including new space entrepreneurship and space tourism, cyberspace, national security, regulatory environment, climate change, Earth applications for space products, the space economy, the international space arena, and the challenges and opportunities in space.
Speakers
Among the speakers are Space Tourist and Space Ambassador Anousheh Ansari; Director General of the European Space Agency Jean-Jacques Dordain; NOAA Deputy Under Secretary for Oceans and Atmospheres Mary Glackin; Lt. Gen. Michael A. Hamel, USAF (Retired); Commander of the Air Force Space Command Gen. C. Robert Kehler, USAF; Deputy Commander of the U.S. Strategic Command Vice Adm. Carl V. Mauney, USN; New Space Entrepreneur Elon Musk; Commander of the Space and Missile Systems Center of the Air Force Space Command Lt. Gen. John T. "Tom" Sheridan; Futurist Alvin Toffler; European Commission Director and Coordinator for Aerospace, Security and Defence Paul L. Weissenberg, Ph.D.; and a panel representing 20+ years of U.S. Space Command leadership.
Awards
The 25th National Space Symposium provides a forum for recognizing space-related achievements of both individuals and organizations. Awards presented during the event include: The General James E. Hill Lifetime Space Achievement Award; the John L. "Jack" Swigert, Jr., Award for Space Exploration; the Space Achievement Award; the Morrow Award for Public Outreach; and the annual Space Technology Hall of Fame induction.
Exhibits
The Symposium is known for its extensive exhibit center, which fills two halls with 45,000 square feet of exhibits from more than 140 companies and organizations representing the best of the space industry. Although the exhibits are almost sold out, some space does still exist. To find out more, visit www.NationalSpaceSymposium.org/exhibitors.
Education and Careers
The Space Foundation's extensive education programs intersect with the 25th Space Symposium on several levels. The recently named 2009 Flight of Teacher Liaisons will attend and participate in special workshops and classes. Teacher Liaisons from the Colorado area also have the opportunity for their students to participate in Symposium programs; grades 3-8 can hear from an astronaut and grades 9-12 can visit the Symposium's exhibits. Plus, an extensive Space Career Fair gives college students and transitioning military the chance to meet with potential employers in the burgeoning space industry.
For a complete program agenda, go to www.NationalSpaceSymposium.org.
Attendees
More than 7,500 people representing all aspects of the space industry from around the world are expected to attend the 25th National Space Symposium. To register, go to www.NationalSpaceSymposium.org/register.
Co-Sponsors
The National Space Symposium would not be possible without the support of our co-sponsors and contributors. The wonderful organizations that make this stellar event possible include The Aerospace Corporation, Aerojet, Analytical Graphics, Inc, ATK, Ball Aerospace & Technologies Corp., Boeing, Cisco Systems, Inc., Cobham, General Dynamics, Honeywell, Hitachi Consulting, Infinite Links, Intelsat General Corporation, International Space University, ITT, Lockheed Martin, The Mitre Corporation, Northrop Grumman, Pratt & Whitney Rocketdyne, Raytheon, Regis University, SEAKR Engineering, Inc., SAIC, Stellar Solutions, United Launch Alliance, United Space Alliance, and the University of Colorado at Colorado Springs. Media partners are Aviation Week and Space News.
Silver Anniversary
This year marks the Silver Anniversary of this prominent event. For more information of the National Space Symposium's prestigious history, visit www.NationalSpaceSymposium.org/symposium-history.
 
This article is part of Space Watch: February 2009 (Volume: 8, Issue: 2).
---
Posted in Spotlight