Report from Washington, D.C.
---
Space Foundation Applauds NASA Nominations
Written by: developer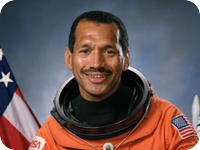 On May 23, President Barack Obama announced his intent to nominate Major General Charles Bolden, USMC (retired), as NASA administrator and Lori Garver as Deputy NASA administrator.
In making the nomination, Obama said, "These talented individuals will help put NASA on course to boldly push the boundaries of science, aeronautics and exploration in the 21st century and ensure the long-term vibrancy of America's space program."
The Space Foundation immediately issued a statement applauding Obama's selection: "By announcing nominations for both administrator and deputy administrator, the White House has demonstrated that it appreciates the importance of both of these key positions to the future of America's space agency," said Space Foundation Chief Executive Officer Elliot Pulham.
"Charlie Bolden is an American hero who brings deep NASA knowledge and experience, and unsurpassed leadership skills to the key position of NASA administrator.
"Lori Garver is an experienced space policy professional with significant previous NASA experience, strong knowledge of the space industry, and the political and communication skills that are crucial to communicating with the administration, Congress and the public.
"Together they should make a dynamic leadership team at a crucial juncture when NASA will be more important than ever to U.S. leadership," Pulham said. "As our posture as a global leader in space continues to be challenged by decades of insufficient investment and the rise of able competitors around the globe, NASA will be more relevant to U.S. leadership and economic rebuilding than ever before. Charlie Bolden and Lori Garver are solid candidates to lead NASA going forward."
Following is background on the nominees:
Gen. Charles Bolden, Nominee for Administrator of NASA
Charles Bolden (pictured) retired from the United States Marine Corps in 2003 as the commanding general of the Third Marine Aircraft Wing after serving more than 34 years, and is currently chief executive officer of JackandPanther LLC, a privately-held military and aerospace consulting firm. Gen. Bolden began his service in U.S. Marine Corps in 1968. He flew more than 100 sorties in Vietnam from 1972-73. Selected as an astronaut by NASA in 1980, he flew two space shuttle missions as pilot and two missions as commander. Following the Challenger accident in 1986, Gen. Bolden was named the chief of the safety division at the Johnson Space Center with responsibility for overseeing the safety efforts in the return-to-flight efforts. He was appointed assistant deputy administrator of NASA headquarters in 1992. He was senior vice president at TechTrans International, Inc. from 2003 until 2005. Gen. Bolden holds a B.S. in electrical engineering from the U.S. Naval Academy, Annapolis, Md., and a M.S. in systems management from the University of Southern California.
Lori Garver, Nominee for Deputy Administrator of NASA
Lori Garver is the president of Capital Space, LLC, and has served as senior advisor for space at the Avascent Group, a strategy and management consulting firm based in Washington, D.C. She was the lead civil space policy advisor for Obama for America, and she helped lead the agency review team for NASA during the transition. From 1998 to 2001, Garver served as NASA's associate administrator of the Office of Policy and Plans. Reporting to the NASA administrator, she oversaw the analysis, development, and integration of NASA policies and long-range plans, the NASA Strategic Management System, and the NASA Advisory Council. Garver also served as a primary spokesperson for NASA. Prior to this appointment, she served as a senior policy analyst for the Office of Policy and Plans, and special assistant to the administrator. Garver earned an M.S. in science, technology, and public policy from the George Washington University and a B.A. in political science and economics from Colorado College.
 
This article is part of Space Watch: June 2009 (Volume: 8, Issue: 6).
---
Posted in Report from Washington, D.C.